Junior Jules Doliscar's dedication has always set him apart from other successful wrestlers.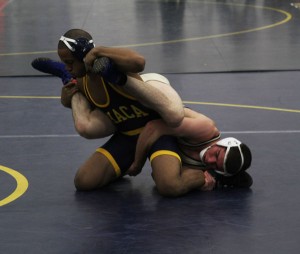 When Nassau Community College Associate Head Coach Vougar Oroudjov held a practice at a time that inconvenienced his players, Doliscar was the only one to attend.
"I told the guys to come to a 6 o'clock morning practice," Oroudjov said. "The next day, only one guy showed up — and it was Jules. He's a hardworking guy and one of those kids who you can trust."
Doliscar has continued his dominance with the Bombers' wrestling team throughout the season, becoming the top-ranked wrestler in both the NCAA Division III wrestling poll and the National Wrestling Coaches Association's rankings. He has established a 25—3 overall record in his first year with the South Hill squad.
Doliscar said he owes his success to the work he put in with Oroudjov, who trained him at Vougar's Honors Wrestling Gym in Syosset, N.Y. Doliscar said Oroudjov found a balance between authority and compassion in his leadership style and was always transparent with him.
"I really reached a whole new level and was able to notice the progress I made," Doliscar said.
The wrestlers who trained at Vougar's gym are former state and county champions who have enjoyed successful college wrestling careers, and Doliscar is no different. Doliscar's climb to the top of the national polls can be traced back to Nassau Community College, where he first faced doubts about whether he could make the transition from high school to collegiate wrestling.
Nassau Wrestling Head Coach Paul Schmidt said though Doliscar diligently prepared for each meet, he was unsure whether Doliscar would be able to compete against opponents in junior colleges.
"When he came to Nassau, he was very raw," Schmidt said. "As a matter of fact, we weren't even sure he was going to be a college-caliber wrestler."
Doliscar grew from 125 pounds to 165 pounds prior to his freshman season with the Lions. He was a National Junior College Athletic Association All-American and a semifinalist in the NJCAA Championships in the 165-pound weight class before competing for the Bombers in the 174-pound weight class.
Aside from his hard work, Doliscar said his respect for the sport is something he looks to show every day on the mat. He said his Catholic faith has motivated him to achieve success for himself, his family and his teammates.
"In wrestling there are really no shortcuts, and there's only one way to do things and that's the right way," he said. "My parents were very religious and they always taught me to do the right thing. They taught me respect and always told me to put my best foot forward."
Doliscar ended up with the Blue and Gold's highest finish at the New York State Wrestling Championships last weekend at Cornell University, coming in third place in his weight class. Only one other Division III wrestler, SUNY-Cortland sophomore Brian Bistis, finished higher.
Doliscar's broad shoulders and wide neck are enough to intimidate any opponent. No sooner than the blast of the referee's whistle does he pursue his opponent with his rapid reflexes on the mat.
Senior Matt Mahon said the team looks to Doliscar for inspiration before meets because he brings an exuberant attitude to each of the team's practices and meets.
"He gets us pumped up just by being there," Mahon said. "He'll constantly remind us that the only thing keeping us from our goals are negative thoughts, and he stresses the importance of everyone supporting one another like a family."
The effort Doliscar has put forth with the Bombers has earned him a team-leading 17 pins. The mark puts him two shy of tying the program's record for the most pins in a single season, which is currently held by Nick Calandrino '07.
Though he wants to establish a new record, Doliscar said he will never let his personal and athletic goals compromise his values.
"You don't try to do anything to hurt your opponent," he said. "You play fair and try your best to win knowing your opponent will do the same."