Point guards in basketball are often described as many things: a floor general, a ball-handler and a playmaker. This season junior transfer point guard Jacqueline Shinall has been all of the above for the women's basketball team.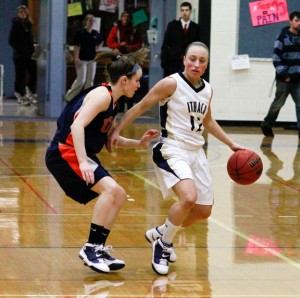 After losing All-American point guard Katherine Bixby '11, who played out her fourth and final year of eligibility for the Bombers last season, Head Coach Dan Raymond said he was unsure about who would step into the Bombers' starting spot.
"What we were banking on and what she has really provided us with was some experience," Raymond said. "After four years of Bixby and having to replace that, it could have quite possibly been a freshman. That would have been a little bit shaky for us."
Raymond said he recruited Shinall and her fraternal twin Jennifer out of high school, but the two eventually decided to attend Connecticut
College. Shinall said the team, which Jennifer still plays for, was a lot different than at Ithaca College.
"For the amount of work we put in it was frustrating to go in day in and day out and lose games but people not care about losing," Shinall said. "It was very frustrating that people didn't appreciate hard work and didn't want to work hard."
After deciding to transfer, Shinall
said Ithaca was the most logical pick because the team was losing its starting point guard. Shinall said the coaches, positive atmosphere of the team, campus and academics also influenced her decision.
Shinall said the process was tough at first because she didn't know anybody, but the team was welcoming and helped her adjust to life on South Hill.
"It was great having a group of people that genuinely cared and wanted me to be a part of the team," she said. "It's been really good and made the process a lot easier to transfer in."
After not starting the first two games of the season, Shinall kicked it up a notch and took over the starting point guard role. She has yet to relinquish the spot, starting 18 straight games for the Blue and Gold.
Senior forward and captain Elissa Klie said the 5-foot-2-inch Shinall is "a little spitball of energy," and she's like a spark plug for the team.
"She doesn't want to have the ball in her hands for a long period of time, and that gets us going," Klie said. "It gets movement in our offensive set early on in the possession. Defensively she's aggressive, and you need somebody who's going to bring that little extra bit of energy on both ends of the floor."
Shinall plays fast, but she is under control. She advances the ball up court within a second or two, cutting left, then right past defenders, before she sends a bounce pass rocketing into the hands of a cutting teammate.
Shinall said it's a completely different environment to have players around her that feel the same way she does about the game.
"Everyone just puts in their all, and it's just really nice," Shinall said. "We have so many people who can step up and do big things for us, and it's good to have a team full of people who work hard and want to be on a winning team."