The warm temperatures and sun in California did not translate to hot play by the baseball team during spring break.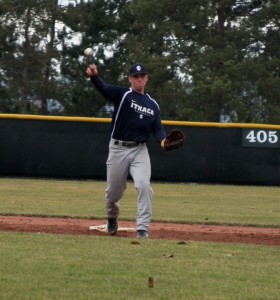 While the Bombers managed to salvage one win from the trip, a 7–2 victory over Cal Lutheran University on Saturday in their final game on the West Coast, they were outscored 78–26 in their five losses.
Junior Tucker Healy, who closed out the victory over Cal Lutheran with two innings of shutout baseball, said while some of the losses may have seemed lopsided, the results do not indicate how close some of the games were.
"We played well against some of the best teams in the country," Healy said. "But at the same time, it was a reality check. While we were able to stay competitive, we realized early on these games weren't going to be cakewalks."
In several games, the offense stepped it up, scoring more then five runs on three different occasions, thanks in large part to the juniors.
Junior Teagan Barresi leads the team with 19 hits and 13 runs batted in to go along with a 1.270 on-base plus slugging percentage.
Barresi, a transfer student from St. John Fisher College who hit .353 last season, said the work he has put in with the coaching staff this offseason has paid off.
"Me and [Head Coach George Valesente] talked in the offseason, and he told me I'd have a chance to come in here and prove I could start," Barresi said. "I've had a lot of instruction from [Assistant Coach Frank Fazio] just improving my swing in the offseason, and so many guys are hitting well right now that it's become contagious."
Fellow junior Matt Keller is second on the team with a .436 batting average and a team-high three stolen bases in three attempts.
Another junior, pitcher Ian Rebhan, enjoyed his best outing as a Bomber to date, throwing 4 1/3 innings of two-hit shutout baseball in the Bombers' 9–2 loss to Claremont Mudd Scripps College on March 18.
Senior Dan Lynch said Rebhan and Healy provide a spark to the team this season.
"Ian has a live arm, and Tucker is one of the best closers in the country," Lynch said "We expect big things out of both guys this season."
But the juniors aren't the only class that has been productive early in the season.
Senior outfielder Rob Zappia, who was the starting quarterback for the football team this past season, said the trip allowed him to get to know some of the talented underclassmen.
"A lot of the freshmen and sophomores have big roles on the team this season, and it was nice for some of the older guys to get to know them a little better," Zappia said.
One standout freshman so far this season has been shortstop Tim Locastro, who has started all 10 games for the Blue and Gold, posted a .298 batting average, belted one home run and contributed eight RBIs.
As the Bombers prepare for their home opener Saturday against Keuka College, Zappia said, the team views the spring break games as a tool for learning where it needs to focus.
"We know we have a solid team this season, and going through some tough losses shows us what we need to do to get to that level of play," he said. "We were able to work out some of the kinks that come early in the season, and we're ready to roll."