In addition to the six members of its coaching staff, the softball team will have an extra pair of eyes in the dugout this season in senior shortstop Annmarie Forenza.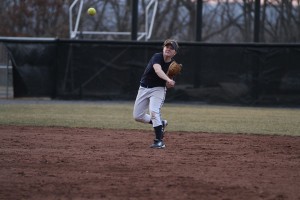 Forenza has decided to take on the role of a student coach this year after suffering two concussions in less than one year. Her first concussion came after she dove for the ball during a game last season against Rensselaer Polytechnic Institute on April 20 in Troy, N.Y. She was still able to start in 33 of the Bombers' 44 games. After last season, Forenza was getting into a car when she hit her head on the side of the vehicle on the same area as her previous concussion.
Forenza said she decided to sit out her senior season after consulting with her doctor and her family, who told her she should try to preserve her mental and physical health for the future.
"What really hit home was when [the doctor] said, 'If you were my daughter, I wouldn't let you play,'" Forenza said. "My family really had a big part in telling me, 'You have the rest of your life to take care of.'"
Forenza had two other concussions while playing sports at Hunterdon Central Regional High School in Flemington, N.J. She suffered the effects of second-impact syndrome after her first head injury, experiencing loss of consciousness when she dove for the ball during a volleyball game for Hunterdon.
Contemplating the risks of suffering a third head injury in two years, Forenza decided to inform her teammates of her choice not to compete this season via email because she could not attend preseason practices. She said she was not feeling any physical effects from her latest head injury, so it was a tough decision to make.
"I was devastated," Forenza said. "There were a lot of tears
because I wanted to play, and there was a lot of going back and forth with myself."
The Bombers are expecting freshman Francesca Busa to step in and play shortstop in the starting lineup. Forenza said she has become a mentor for Busa because Forenza was in the same role her first season on the team, stepping into the starting role at shortstop after Erica Cutspec '08 graduated.
"Part of what made me more at ease with the decision is that I have a lot to offer, especially with such a young team," Forenza said. "I feel good when I can tell them something, and they make the switch right away."
Busa said she was looking forward to playing with Forenza, given that Forenza was thrust into a similar situation her freshman year. Now that she has Forenza as a mentor, Busa said she has taken full advantage of her opportunity to start.
"She knows more about the game than some of the coaches that I've had," Busa said. "Not only has she been there recently, she's smart, and she knows how to play the game."
Junior second baseman Jenn Biondi said Forenza's absence will be difficult for the team, but the current infield has found a new way to track progress for the team through a "punchboard board." The team will write down a list of objectives, such as scoring the game's first run, and make a hole next to each one as it's met throughout the game.
"With our personalities, we just like to make plays, and it should help us achieve our goals," Biondi said.
Forenza said she plans to stay in Ithaca for the next few years, as she is enrolled in the six-year clinical health studies doctorate program at the college. Though she will not be playing softball this season, she said she will use her experience to
motivate the rest of her teammates to appreciate every aspect of playing for the Blue and Gold.
"I told them just to love it like I did, to fall in love with the game every time you play it because you don't know when it will all end," she said.