Whether Bill Way is talking about Ithaca College's exercise and sports sciences graduate program or the men's cross country team, a grin is constantly splashed across his face.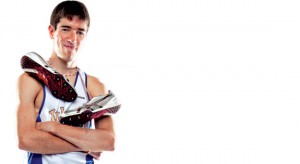 And Way has reason to smile. He has what almost every athlete wants — a second chance to compete at a sport he loves.
After a four-year hiatus, Way is running competitive cross country for the first time since high school.
"It's like I'm living the dream," Way said. "It was always just in the back of my mind. I always wanted to give it another shot, so to have my chance now and to be healthy, it's amazing."
But it took added effort for Way to get to this point. He endured two stress fractures, adopted a less strenuous training routine and developed a new appreciation for cross country.
Way ran cross country for four years at Cheltenham High School in Wyncote, Pa., under Head Coach Tom Sexton, who said Way is a runner who stands out to him because of both his attitude and performance.
"He was an outstanding runner, totally team-oriented," Sexton said. "He was always very positive, a coach's dream, really."
Way intended to run cross country for the Bombers as a freshman in the fall of 2006 but was diagnosed with chronic dehydration during the summer, a product of his overtraining.
"I would train all the time and never took a break," Way said. "I really just needed to take 10 days worth of rest, but my confidence was shot, so I just decided to hang it up for a little bit."
Way got involved with the club cycling team his freshman year, but the urge to run competitively stuck with him.
"I missed running a lot," Way said. "Every year I'd see the guys on the team run by, and I'd think, 'Oh man, I should give it one more shot and see what I could do.'"
Way made several comeback attempts throughout his college career but kept insisting on employing a grueling training schedule that caused two overuse stress fractures in his legs. Way said he wasn't letting his legs adjust from biking to running, and he often pushed himself through 10- to 12-mile runs without giving his body time to rest.
"I started to question myself a lot," Way said. "Obviously the pain sucked, but I just started thinking, 'Maybe I'm not cut out for this. Maybe I just can't do it.'"
Way was accepted into the college's exercise science graduate program in the spring and set a goal of graduating in two years. Way said he made the decision during his summer training to give cross country one more try, but he knew that he needed to change his attitude and training methods to succeed.
"It really came down to, I just wanted to go out there and be a part of the team, whether I was the No. 1 guy out there or just bringing up the rear, just to say that I gave it one more shot," Way said.
This summer, Way paired this mellowed attitude with an afternoon routine that had him running 60 to 70 miles a week, while the rest of the team was running 90 to 100. Way said he finished every run with strength and balance exercises in his living room that helped ease him back into running.
"I was not doing very heavy mileage," Way said. "It was just a lot of short runs on soft surfaces to slowly build my mileage up."
Way's contributions to the Bombers are already evident, as he has won Empire 8 Runner of the Week twice this season. Way led the Blue and Gold with a 10th overall finish at the Lehigh University's Paul Short Run with a time of 25:37 on the 4.9-mile course Friday.
Way said much of his success comes from the pure love he has for the sport and his appreciation for being on a team.
"It's just the joy that I get from the activity in and of itself," Way said. "Just the thrill of pushing the limits and trying to be the best that you can for the team."
Way's perpetually positive attitude also has an effect on the other runners on the team, senior captain John Davis said.
"He's always looking forward to working hard and competing," Davis said. "To have a guy who's always excited to be there and never down on what we're doing really brings everyone else up."
Head Coach Jim Nichols said Way brings a new dynamic to the team — physically and personally. While running, Way's defined muscles from his neck to ankles stretch with each step and deliberate swing of his arms.
"Physically he's stronger and more mature than our freshmen and sophomores, so that's a big asset," Nichols said. "But he's also got the enthusiasm of a freshman, because he hasn't raced in such a long time. We talk to him as an experienced veteran, but he's really a rookie."
In addition to Way's excitement for running, he said he has a similar passion for his education — in particular the topic of motivation.
"I found it really interesting how different theories apply to motivating individuals and guiding them through behavior change and applying that to an exercise setting," Way said. "I'm looking at cardiac rehabilitation because that fuses sports psychology and the practicality of a medically-based career.
Since high school, Way has learned to listen to his body, and said he knows even with his current physical limitations, the chance to run competitively one last time is worth it.
"It's just about knowing that you've worked so hard toward something," Way said. "The journey is really what's rewarding."