The pole-vaulting squad on the men's indoor track team has adopted a different bottom-up approach this season.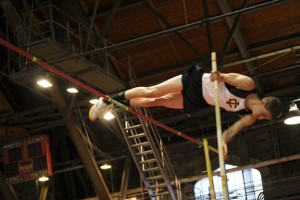 After Andrew Brown '10 graduated and Jeff Willis transferred to Clemson University, the Blue and Gold have been forced to rebuild their pole-vaulting squad from scratch. Brown has returned this season as a graduate assistant and has played a vital role in the new pole vaulters' development.
Freshmen pole vaulters Jarrod Monacelli and Ben Van de Water and sophomore walk-on Elrik McCheyne make up a squad that had never competed in a collegiate meet before last Saturday's Cornell University Relays. Monacelli was the only athlete of the three to compete in the event, clearing 4.05-meters but failing to place in the overall standings.
Despite the lack of experience, however, the young guns are adjusting quickly to the college level, Monacelli said.
"It has been pretty smooth and the coaches work you in easy," he said. "They've gotten me on the mats and on the runway quickly, and I feel pretty confident."
Van de Water also said he's getting acclimated to the higher level of competition, and it has been beneficial to have specific coaches for each event.
"It's been a challenge, especially just the workouts for pole vaulting," he said. "Having workouts specifically geared towards pole vaulting is pretty new to me. But other than that, it's been pretty easy."
Monacelli, Van de Water and McCheyne have all benefited from the advice of their coaches, Assistant Coach Matt Scheffler and Brown. For Brown, who competed as a pole-vaulter for the team for the past four years, this season is one of transition as an assistant for the team.
"I really enjoy the coaching aspect," Brown said. "Especially since I've worked with many of the girls' pole-vaulters before, it's nice to try and make them better. And it's also nice to see the new guys and see what they can do."
Monacelli said he is already seeing the benefits of working with Brown and the experience he brings to the field.
"It's helped a lot," Monacelli said. "My coaches in high school were more coaches than athletes, and so having a perspective from an athlete like Andrew is huge. I'll watch him take a jump and then I can see what I have to do on my take off and how I can improve."
Scheffler, who was a New York State Collegiate Track Conference champion at SUNY-Brockport, often brings a camera to the practices and tapes the athletes' jumps so they can see what they need to fix on their runway approaches and takeoffs.
McCheyne, who walked on to the team this year with no prior experience in pole vaulting, said he wanted to try it because it seemed like a change of pace from sports he had previously competed in.
"I really decided to try vaulting because my high school didn't have it, but it looked really cool," McCheyne said. "When I didn't make the baseball team this fall I decided to try something new."
With so much inexperience on the squad this year, Brown said he has had the pole vaulters focusing on the basic fundamentals so far.
"Technical goals are more important than height," Brown said. "But for Jarrod, 15 feet should be no problem, Ben can jump at least 12 and for Elrik it's tough to say — maybe 10 feet just based on his athleticism."
While focusing on technique and form can improve the athletes' vaults, Monacelli said there are other variables they have to keep in mind. He said the overcrowded field at Cornell made it hard to find a rhythm.
"The meet was set up poorly," Monacelli said. "They had 42 jumpers
go at once and I had to wait two hours to start my first jump. Even though I didn't clear a height it was good practice."
As the young athletes set their sights on the next meet Jan. 15 at the Rochester Institute of Technology Tiger Classic, their dedication to the event will push them to continue setting the bar higher, McCheyne said.
"As of now, I have improved a lot in a short amount of time," he said. "Which I attribute to phenomenal coaching and my personal dedication."