Though Carp Wood Field is a modest field with small stadium seating, the multipurpose grass field has hosted more than 50 postseason contests between soccer and lacrosse combined. But for the women's lacrosse team, it is not it's only home field.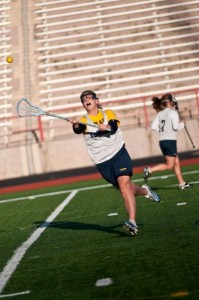 The South Hill squad enjoys an opportunity that few other women's lacrosse programs in the Empire 8 offer: the ability to practice on both a grass field on campus and an artificial turf field at Cornell University. With the possibility of snow at Carp Wood Field extending through the month of March, the Bombers hold practice and early regular season contests at Cornell's Schoellkopf Field.
Head Coach Karen Hollands said the team is so used to practicing and playing regular season games at Schoellkopf Field that it has become a second home field.
"We consider [Schoellkopf Field] to be a home field for us in February and March, since we practice there almost every day," she said.
Junior midfielder Katie Hurley said lacrosse is an entirely different game on grass than on turf. She said the ball bounces more on turf, making it more difficult to track. Some drawbacks with grass include difficulty handling ground balls and a muddier, slipperier surface.
Artificial turf is also known to cause fewer injuries during practice. According to an NCAA study conducted during the 2003-04 academic year, the injury rate during practice was 4.4 percent on natural turf and 3.5 percent on synthetic turf. There was little difference in game injuries, as the rates were 11.5 percent and 11.4 percent, respectively.
Schoellkopf Field has the feel of an ancient professional stadium, with large stands in the shape of an arch blocking the wind. Carp Wood Field's environmental conditions present opponents with challenges of hostile early spring weather and unfamiliarity. Hollands said the unfavorable conditions at South Hill give the Bombers a form of home-field advantage.
"Our grass field is a big factor because it's on a mountain," she said. "It's wider, longer. It's usually windy and raining. Not a lot of teams play in that environment."
The Blue and Gold also share the fields at Ithaca High School with the high school's men's lacrosse team. Senior Lauren Fitzgerald said the team prefers to practice on the outdoor fields, while other teams may be confined to practicing in a gymnasium.
"It's nice to be able to practice outside and use both fields, so we can run around in open space and not have to worry about being closed in by boundaries," she said.
Only two other teams in the Empire 8 have the chance to play on both surfaces. Rochester Institute of Technology has two separate fields that host men's and women's lacrosse games alternately, and the surface at Utica College's Charles A. Gaetano Stadium is made up of a sand and rubber mixture that is artificial but feels like real grass.
In past seasons, the Bombers would play a home game or two on the artificial field in March before returning to Carp Wood Field. For the first time since 2006, the team will compete only at Carp Wood Field, so the Cornell lacrosse teams can host home contests next week. The Blue and Gold will have all of their home games in the final month of the season, beginning with the home opener against Utica on April 7. But first, the Bombers must play a road game at SUNY-Cortland before beginning Empire 8 play at Rochester Institute of Technology and St. John Fisher College to finish out their six-game road trip.