The senior class of the men's basketball team has won 73 games, collected back-to-back Empire 8 Conference Championships and made three consecutive NCAA Tournament appearances. This Saturday in Springfield, Mass., they have an opportunity to get something that has eluded them twice before: an NCAA tournament win.
The Bombers were knocked out in the first round of last year's NCAA tournament by the College of Staten Island and suffered a home defeat in 2011 at the hands of the Massachusetts Institute of Technology. Seniors Sean Rossi and Andrei Oztemel are the only players on the current roster who were on the court for both tournament defeats. Both players are expected to the play as the Bombers look to get their first NCAA tournament win since 1993 at Springfield College.
Rossi and Oztemel are entering the tournament riding separate waves of momentum. Rossi had his weakest assist year averaging just more than seven assists per game, but he has returned to form by averaging more than nine assists in the last five games. In the Empire 8 Championship, Rossi only had one turnover in 36 minutes, and in the previous game he broke the Division III all-time assists record.
Rossi said while the team went through a slump earlier in the season because of injuries to Oztemel and senior forward Travis Warech, it is coming together at the right time.
"When injuries hit, it was tough because [Warech and Oztemel] bring so much to the table, and we had to rely on some freshmen, who did well," Rossi said. "When they came back, you can tell practice was a lot more fun, they were excited to get [Warech and Oztemel] back to the court, because they deserve to be out there with us."
A high-ankle sprain kept Oztemel out of game action for the large part of the past month. While still not fully healthy, he was healthy enough to come off the bench and averaged 18 minutes of play. Against St. John Fisher College during the conference semifinal, Oztemel hit two 3-pointers and scored 10 points.
Oztemel said making a run in the tournament would mean everything to him and his classmates.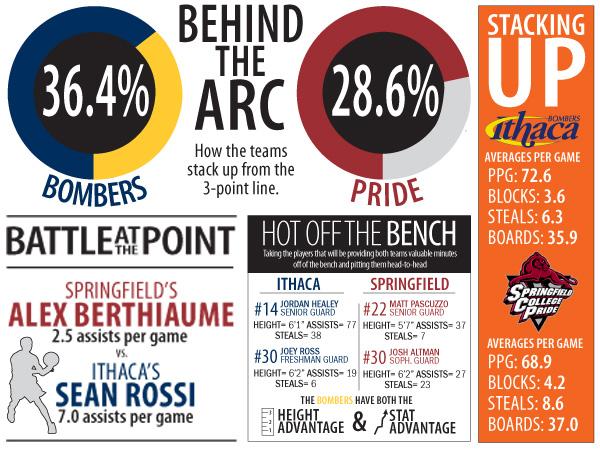 "It means a lot," Oztemel said. "We got five seniors, and we all understand what it means, and it filters down to the rest of the team, and they're all on board so we can keep this good feeling going and make a nice run."
The South Hill Squad is confident heading into the NCAA tournament despite a less-than-impressive history in the playoffs. The program is only 3–15 in the tournament and has not won a tournament game under Head Coach Jim Mullins. Despite the struggles, Mullins said he is not concerned with "the elephant in the room," because past failures have nothing to do with this current team.
"It's kind of bizarre when you hear media people say 'You guys haven't won one in a couple of years.'" Mullins said. "It's a whole different [team] dynamic. It's another year, another team."
The Bombers will be running into a Pride team that has won five of its last seven games, led by senior guard Alex Berthiaume, who averages 17.5 points per game. However, the Pride will be without their second leading scorer, senior guard Jordan Rote, who is out with a shoulder injury. That has placed an increased workload on the shoulders of junior forward Robbie Burke, who had 18 points and nine rebounds in the team's loss to Worcester Polytechnic Institute in the New England Women's and Men's Athletic Conference Championship last Sunday.
Though the two teams have not played each other since the Truman administration in 1950, they are connected by two impact players. Berthiaume and Warech were teammates at Division II St. Michael's College for two seasons before transferring to their respective schools. Soon after the announcement was made Monday, Facebook banter began between the former teammates, and Warech said his old teammate congratulated him on his successes this year. He said playing in the NCAA tournament was exactly what he signed up for when transferring to Ithaca.
"Winning the Empire 8 Championship and getting a chance to play in the NCAA tournament is just a byproduct of what I came here for," Warech said. "I came here not to start over but really just to get back to loving playing the game again."
Mullins said he is calm during the buildup to this weekend's game. He attributes this to the new NCAA tournament format that only has teams playing once a week from now until whenever the tournament the ends. He said the directness of the scenario is calming.
"I can't speak for every coach, and I certainly can't speak for every player, but there's a calming effect knowing it's one and done," Mullins said. "You're either going to leave it on the court and advance or you're not and you're going home."
The Bombers will take off for Springfield on Friday and will look to advance to the tournament's round of 32 March 9 against either University of Rochester or Fitchburg State University.