The men's basketball team split a pair of Empire 8 Conference contests this weekend in Ben Light Gymnasium. The Bombers narrowly escaped an upset against winless Elmira College (0–15, 0–5 Empire 8) on Friday, winning 75-70. They then fell to Alfred University (10–5, 3–3 Empire 8) yesterday by a score of 84-80.
Junior forward Andrei Oztemel led the Blue and Gold in scoring against Elmira with a game-high 20 points, including five three-pointers. Junior guard Sean Rossi dished out 12 assists in the Bombers' 20th consecutive victory against the Soaring Eagles.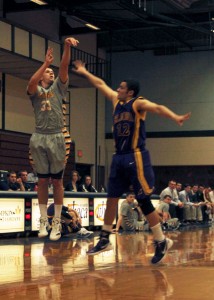 The South Hill squad shot 52 percent from behind the three-point arc and 57 percent from the floor compared with the Soaring Eagles' 31 percent shooting from downtown and 48 percent from the field.
The Bombers struggled with contested shots in their game against Alfred, shooting only 39 percent from the floor. Free throws kept Ithaca in the game, as they went 21 for 22 from the foul line. It was the program's fourth best free throw shooting performance.
Three players put up double-doubles in the losing effort — senior guard Jordan Marcus had 22 points and 10 rebounds, sophomore forward Frank Mitchell had 12 points to go along with 10 rebounds, and Rossi added 13 assists and 10 points.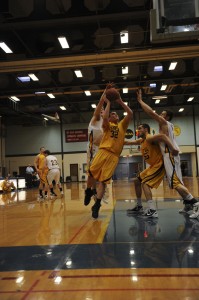 The South Hill squad currently has two players in the national rankings. Oztemel is in the top 5 in free throw percentage, hitting 92 percent from the charity stripe. Rossi has 146 assists, which places him second in Division III.
The Bombers return to action at 8 p.m. Tuesday when they host Utica College.