When heavy winds caused last season's Eastern College Athletic Conference Championships to be canceled on the first day, after only two races, the men's crew season and championship run came to an unexpected finish.
This season, barring any circumstances beyond their control, the Bombers will look to dictate their outcome at the ECAC regatta scheduled for Sunday in Worcester, Mass. Senior co-captain Chris Lisee said the squad is using last season's abrupt ending as a motivating factor going into this year's championship meets.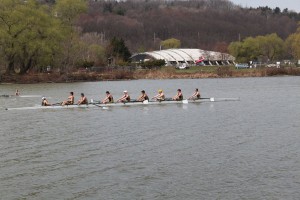 "We would really have liked to test ourselves at ECACs last year," Lisee said. "That's the last race of the season, and everyone wants to race there. You can really show yourself against national teams. I'd say there's unfinished business there."
In order to compete against national teams at this year's championship meets, the Bombers have been making a couple of changes to their premeet regimen.
"The biggest change is that we are doing a lot more higher-intensity workouts with less distance covered, so it's shorter [distances] at a faster pace," Lisee said.
Another change, according to senior Brian Erickson, is a greater focus on the team's special moves for races, especially at the start.
"We assume if we jump off from the start, we can pull from the pack," Erickson said. "So if we're up in the pack and we're out there with them, we can continue going rather than being behind and having to work back that lost time."
The Blue and Gold haven't changed every part of their routine, though. Every rower still tries to get at least eight hours of sleep the night before the meet, the same as during the regular season.
Sophomore Dan Curtis said going into this year's ECAC regatta the Bombers are confident with the course, after competing there almost a month ago during the regular season.
In the regatta April 17, in Worcester, Mass., all three varsity boats finished in the top three in their respective races against boats from five other schools.
With no fewer than 20 schools competing on the men's side in the ECAC this year, the field is by far the largest of any meet the Bombers have competed in this year. The average race at the ECAC features five to seven boats as opposed to the usual three to four boats per race at Ithaca's earlier meets. That even extends to the novice races, which are more unpredictable and evenly matched than their varsity counterparts.
Lisee said he is excited about the larger field.
"It's awesome to compete against five other crews at one time," he said. "That's what we row for. When there's a crew right on either side of you going just as hard you are, it gets the adrenaline flowing, and that's where crews really shine."
Few crews have gotten Ithaca's adrenaline flowing more in the past few years than Marist College. Last year at the New York State Championships, Ithaca was ahead of Marist for the entire race but had to fiercely protect its lead from the 1,000-meter mark and ended up winning by inches. The previous weekend, Marist had beaten Ithaca. Though last year's ECACs were cut short before the two teams could compete in a rematch, this year the Red Foxes defeated the Bombers in each of their last two regular season meets of 2010.
"They're definitely looking for blood this year," Curtis said.