Most coaches would have ripped their team for the type of performance the men's lacrosse submitted in in the first quarter of Wednesday's season-opening 13-8 victory against Lycoming, but Head Coach Jeff Long is not most coaches.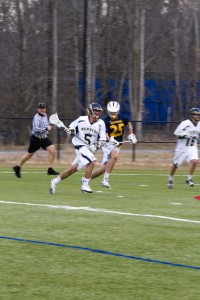 The shaky Bomber start against Lycoming College featured seven turnovers, two failed penalty kills, no goals scored and a team fortunate to be only losing 3-0. Long was still relaxed after the first quarter, however.
"I told the team to relax and to settle down." he said. "We had some good lucks but couldn't take advantage of it."
The South Hill squad took advantage of their looks in the second quarter as Connor Lowe and Tom Mongelli each scored twice in the quarter to level the score at four at the half. The Blue and Gold attack then kicked into high gear as they scored five straight goals in the third and fourth quarters to give the Bombers some room for error.
The attack's newest member, freshman James Manilla scored what would be the game-winning goal as he was able to get a step on his defender and beat Lycoming goalie Andrew Hauk to give the Bombers a 9-6 lead. The freshman was called upon to replace senior Jay Lucas, who is currently ineligible. Manilla credited the seniors for his successful debut.
"It was comforting." He said. "A tribute to the seniors who helped me adjust to the college game. It was nice to go out and finally play someone else."
One of the seniors he credits, Tom Mongelli, led all scorers with five goals, three of which came directly off of turnovers by Hauk. The last of which came as Hauk dropped the ball in front of the crease and Mongelli picked it up to make the score 13-8.
Senior Brendan Green, making his first start since 2009, recorded 15 saves. It was a performance that provided Green with a vital confidence boost for the rest of the season.
"It's awesome," Green said. "It's a great confidence builder for me and the team."
The South Hill Squad will spend their Spring Break in Virginia as they play New England College on Monday, SUNY Plattsburgh on Wednesday and hosts Christopher Newport on Friday.