The 24th-ranked men's lacrosse team never looked to be in danger of losing in its 13-6 win against Utica College yesterday at Higgins Stadium.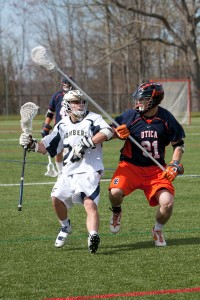 The South Hill squad seized control of the game early with a five-goal first quarter.  Senior midfielder Billy LaPerch scored twice in the quarter, including the game's first goal with 12:01 remaining. LaPerch said the Bombers' performance dropped after their dominant first quarter.
"Once we got our five goal lead we kind of slowed up." He said. "Our tendency needs to be to put our foot on the pedal and get things going. "
The Blue and Gold eventually put the game out of reach with a five-goal run in the second half. Senior attack Tom Mongelli scored twice to increase his total to a team- high 30 goals for the season and echoed LaPerch's sentiment by saying the Bombers need to play a full sixty minutes in their next game.
"We just have to work hard and focus." Mongelli said. "Our effort and hustle were there but we didn't have any focus and that's our main goal. We haven't played a full 60 with our full focus."
The game was a sloppy one as both teams combined for nearly 40 turnovers.  However Head Coach Jeff Long said he expects opponents to try and make games look ugly.
"We'll see the same mentality with Hartwick where they are a very aggressive, high pressure, hectic team." Long said. "Today was, as poor as it looked, was great practice for Saturday. These teams want to make it a sloppy less skilled game and we want to the opposite."
The Bombers (9—4 overall, 4—0 Empire 8) will face the Hartwick Hawks (6—6 overall, 1—3 Empire 8) at Wright Stadium in Oneonta, N.Y. at 1 p.m. Saturday.  Several Bombers said that the stadium's intimate atmosphere may be a factor. If the Blue and Gold win, they will clinch their twelfth consecutive appearance in the Empire 8 playoffs. A win and a Nazareth College loss to Stevens Institute of Technology on Saturday will assure the Bombers of a top-two spot in the conference, guaranteeing them a home game in the Empire 8 playoffs.