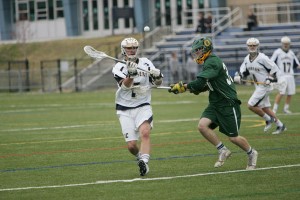 What was supposed to be a day of rebounding for the men's lacrosse team turned into a shocking defeat at the hands of SUNY-Oswego as the Lakers rallied to beat the 17th-ranked Bombers 8-7 in triple overtime.
The Blue and Gold took a 7-3 lead into the fourth quarter behind a hat trick by sophomore attack Pat Slawta and senior attack Tom Mongelli's two goals, including the 100th goal of Mongelli's career. However, the Lakers rallied in the fourth quarter by scoring four times. Senior goalie Brendan Green had to leave the game with a thumb injury.
Head Coach Jeff Long said the South Hill squad could not get going with their confidence and that proved vital in the fourth quarter.
"We just never really got the pace of the game we wanted in play at all and it showed," Long said. "They got their confidence built up and ours went the other way as the fourth quarter kicked in."
In overtime, both the Bombers and the Lakers had opportunities as the Bombers had two shots miss the cage in the final seconds of the first overtime. The game was ended when Oswego sophomore attack Chris Porten picked up a ground ball that resulted from an errant clear from the Blue and Gold defense. Porten got by a Bomber midfielder and beat freshman goalie Mac Davis at 2:09 of the third overtime.
Senior attackman Devin Weinshank said the team did not expect to lose.
"We didn't think we would lose, we just didn't give our best effort," Weinshank said.
The loss leaves the Bombers at 5—2 overall and looking to rebound with a game at Union College at 4 p.m. this Wednesday. Senior long stick midfielder and captain Chris Duncan said he would make sure the team knows its goals for the rest of the year.
"Dropping two straight at home is a kick in the gut be we got to remind the guys that it's a marathon, not a sprint." Duncan said.