The men's swimming and diving team tied a single-season record for wins by defeating Union College 204-96 on Saturday at the Athletics & Events Center Pool. The Bombers finished 16-1 on the season and celebrated the final regular season home meet for seniors Antoine Connors, Tyler Kenton, Derek Rand, Jeff Rapp and captain James Sica.
The Blue and Gold won 12 events at the meet, including a sweep of the relays.
Rand won the 3-meter dive and came in second in the 1-meter dive. Sophomore Zack Kundel won the 50-yard freestyle and was on the first-place 200-yard medley relay team. Rapp won two individual events in addition to the team relay.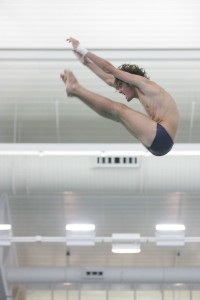 Sophomore John Carr won the 200- and 100-yard freestyle events. Sophomore Connor White won the 100-yard backstroke and classmate Cheffy Thomas won the 200-yard breaststroke.
Senior Antoine Connors, who helped win the 200-yard freestyle relay, said he was very happy with the relay team's performance.
"We're really excited about that relay," Connors said. "We're consistently getting faster, and we're relay excited to do it at states and see what we can do."
Sica said he is also looking forward to the state championships so the Bombers can prove themselves and earn another title.
"This meet brought up a lot of questions of what people are going to swim," Sica said. "We have a lot of fast guys swimming, so it should be interesting."