The men's swimming and diving team had a productive weekend. It defeated conference foe Alfred University 192.5-106.5 at the Athletics & Events Center Pool on Saturday, then had eight divers post NCAA-qualifying scores at yesterday's Dick Comanzo Memorial Diving Invitational.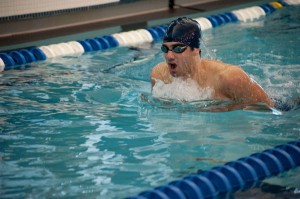 The Blue and Gold won seven individual events and two relays in their victory against Alfred, increasing their regular season record to 15–1.
Senior Derek Rand won both of the diving events. Sophomore Connor White, junior Jake Lichter, senior Jeff Rapp and senior Antoine Connors won the 200-yard medley relay. Junior Jake Robbins, freshman Peter Knight, sophomore Zack Kundel and Connors won the 200-yard freestyle relay.
Other winners included Freshman Clement Towner, who placed first in the 200-yard freestyle, Connors in the 50-yard freestyle and Robbins in the 100-yard freestyle.
Head Coach Kevin Markwardt said he was pleased with his team's overall performance.
"We had some great swims, and some of the guys had their best times for the season," he said.
The Bombers also hosted the Dick Comanzo Memorial Diving Invitational yesterday.  Freshman Matt Morrison came in first place in the 1-meter dive ahead of Rand and junior Martin Brown. Brown finished in second in the 3-meter dive, while Morrison came in fifth.
Diving coach Nate Brisley said the divers showed a lot of endurance over the weekend.
"It's long lots of diving, and they've done very well," he said.
The South Hill squad has its last regular season meet against Union College on Saturday in the Athletics and Events Center Pool.
Senior captain James Sica said the team should focus on being quick in the pool in its final meet rather than have a goal of meeting specific times in events.
"I don't think we're thinking of getting first as much as swimming fast," he said. "If we swim as fast as we plan on, winning will fall in place."