The men's tennis team lost to rival Stevens Institution of Technology by a 7-2 decision Sunday.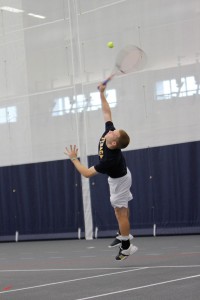 The highlight for the Bombers came in third doubles. After the Blue and Gold were defeated in first and second doubles, sophomore Griffin Reid and freshman Justin Levine reversed a 6-1 deficit to claim a 9-7 victory.
Head coach Bill Austin said Reid and Levine's effort boosted morale before the singles matches.
"They were down a couple of breaks of serve," Austin said. "They came back and won that and really turned momentum. We used that."
The doubles matches were held indoors in Glazer Arena, but the singles matches moved outdoors to the Wheeler Tennis Courts. However, the court change did not reverse the Blue and Gold's fortune. Levine picked up the South Hill squad's lone singles win in a hotly contested match against Stevens freshman Daniel Szwarc.
Stevens sophomore Shota Tasaski attributed the tense feelings to the great play between the squads.
"[Ithaca has] always been the rival school for NCAA's," Tasaki said. "I'm sure we'll see you guys again."
Now, the team looks forward to securing their spot at the Empire 8 Conference championships on May 5th and 6th. Senior Jimmy Newton said he likes the team's chances moving forward in conference play.
"We would like to beat all the other [Empire 8] teams so we go in as the second seed," Newton said. "That's our goal — going to the [championships] guns blazing."
Austin echoed Newtons comments, again noting the competitive passion on display in the match.
"We played with a lot of heart, we played with a lot of guts." Austin said. "They proved to be a little bit better than us, but right now what we take away from it is that we got three weeks until the Empire 8's, and we work on things that we learned from today and see if we cant put ourselves in that much better of a position."
The Bombers travel Wednesday to Rochester, N.Y. for a 4 p.m. battle against St. John Fisher College, who are coming off a victory against Alfred University to clinch a spot in the Empire 8 championships. Fisher also lost to Stevens 8-1 earlier in the spring season.