The men's tennis team began Empire 8 Conference competition with a dominating 9-0 victory over Alfred University this afternoon at Glazer Arena.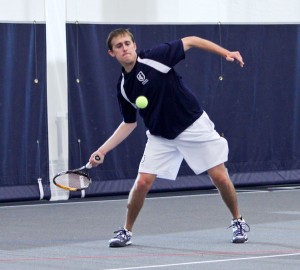 Five Bombers won both singles and doubles play. Senior captain Jimmy Newton defeated Alfred senior Nick Schneider 6-4 6-2, while junior Kyle Riether beat Alfred sophomore Peter Benoit of Alfred 6-0 6-1.
In first doubles, sophomore David Anderson teamed up with Newton to defeat Alfred junior Stefan Nonnemann and Schneider 8-4. Senior captain Dan Levine joined Riether to defeat Alfred freshman Michael Graham and senior Kyle McDevitt 8-0 in third doubles.
The Blue and Gold return to the court at 1 p.m. Saturday at Utica College.