After suffering two late-season losses to Stevens Institute of Technology last year, the men's tennis team is looking to vanquish its Empire 8 Conference rival and take the final step toward a conference title in 2012.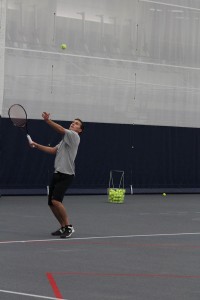 Stevens has been a consistent thorn in the side for the Bombers. The Ducks defeated the Bombers in the final match of the 2011 regular season May 1 and ended the Blue and Gold's hopes at a conference title with a 5-0 shutout one week later. Stevens was also a major blemish on a 16-3 season for the Bombers in 2010, as they defeated them for the Empire 8 Championship.
Senior Dan Levine, who competed in both conference final losses to the Ducks, said he wants to stay healthy and emerge as a conference champion in both singles and doubles matches.
"I'd like to go out on top winning my match and winning the team match," he said.
The South Hill squad will be moving forward without Josh Rifkin '11, who was its number one competitor, winning more than 50 singles matches before graduating. The squad also graduated Les Bowden '11 and Steve Ochs '11, who acted as a support system for the younger players.
Despite losing senior leadership from last season, junior Kyle Riether said he and the rest of the upperclassmen understand what they have to do to climb to the top of the conference.
"The older guys know what it takes to get to be able to get to the championship," he said. "It's just working hard everyday and the right mindset for everybody to keep going."
The roster is composed of two freshman and seven sophomores. Levine said he's looking for sophomore David Andersen to have a breakout year and follow up on the Empire 8 Conference Rookie of the Year honors from last season.
Senior captain Jimmy Newton said because the fall season is short and based on individual matches, the doubles partners have not had time to develop chemistry.
"We don't get a lot of time to bond, but with spring break coming up and the trips we're going to start making the guys into a tight-knit unit," he said.
The Bombers will make their annual training trip to Hilton Head, S.C., for the break after playing in their first regular season spring contest against St. Lawrence University on Saturday in Canton, N.Y.