When senior pentathlete Emma Dewart stood atop the podium at the NCAA Indoor Track and Field Championships on March 10 in Grinnell, Iowa, she had achieved one of her personal best performances and etched herself into the women's track team's record books.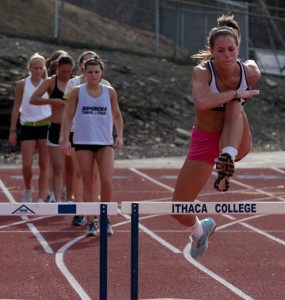 Dewart became the most accomplished women's indoor track athlete in Bomber history with her second consecutive individual national title. Dewart said she knew defending her national title was going to be more challenging this year.
"Going into nationals this year after being the national champion in the event was a little bit more nerve-racking because everyone is there to beat you and get to that top place on the podium," she said.
Shattering her old school record with 3,674 combined points from all five events — the 800-meter run, 60-meter hurdles, high jump, long jump and shot put — Dewart
became one of 20 Bombers to win at least one individual national title since 1983.
Dewart said she did not think about her first-place performance at last season's national championships in Columbus, Ohio. Her main goal going into this season was to win the title in the pentathlon with or without rewriting the program's history.
"Setting the school record was like an added bonus to the weekend," she said. "I didn't go out aiming to set the school record, but it's something that happened. It came as a result of what I had to do to win another pentathlon national championship."
Dewart said each of her practices consisted of work in each event and six 200-meter runs at a set pace. She said she felt physically and mentally prepared for the national title meet because of her strict daily workout regimen.
"Whereas many athletes will do a spring workout in one day's practice or a throwing workout in a day, as a pentathlete we usually do two to three, sometimes even four events in one practice," she said.
Sophomore hurdler Alyssa Wu said Dewart's focus on collective success sets her apart from other athletes on the team.
"Emma has always shown her commitment and support to this team, whether it is in practice, meets, team bonding activities or outside of track altogether," Wu said.
Senior Ashley Dlubac, who has been participating in the pentathlon with Dewart since their first indoor season in 2008-09, said Dewart's amiable nature is her greatest attribute and something the team will remember her by after her four years of eligibility are up.
"They will miss her talent, her advice, her personality and most of all her being there as a teammate and friend to all of us," Dlubac said.
Dlubac said Dewart remains humble despite her success and is always the first one to congratulate anyone on their performance.
"She is very driven to perform well for herself and her team, and I think she is coming into the outdoor season with confidence that she will do well along with the desire to have fun doing so," Dlubac said. "She doesn't stop cheering and being there for teammates as they compete as well."
Dewart said she will have to continue to train hard during each practice for the outdoor season to build on her performance at the indoor national championships.
"Pentathletes are often the last track and field athletes to leave practice each and every day," she said. "We need to multi-task in a way because we do a little bit of each event to prepare for competition at the end of each week."