The tape on his left shoulder is peeling, his right shoulder blade is bright red and the scratches and visible blood vessels above his right hip illustrate how many times he was slammed into the torn up ground of Lower Allen Field Saturday.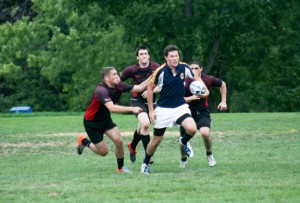 While the physical toll of rugby on the human body is clear, it's the study of how the body responds to that experience that brought Donovan Baker to South Hill and the U.S. for the first time 25 days ago.
Baker said while rugby may be the sport that he has played the most throughout his life, it was his larger appreciation for sports as a whole that shaped his career goals.
"I get a real sense of satisfaction and joy when I play sports," Baker said. "So exercise science sounded like a good career … and I wanted to do something that I'd enjoy. So that's why I went down that path."
As an exercise science major at Griffith University in Australia, Baker said he decided to study at the college for the semester because it offered courses that were not available at home.
While the academic benefits were the focus of his move, Baker, who played his first rugby game at 7 years old and is a "big fan" of the Super XV and Tri Nations rugby leagues, said he looked into the sport's presence at the college before arriving on South Hill.
"I've always loved rugby," Baker said. "Pretty much as soon as I could walk, my dad put a rugby ball in my hands and said, 'Off you go.' … I wanted to get involved with it when I came over here, so I checked [it] out online and saw [the college] had a rugby club."
Born and raised in the Republic of Zimbabwe, Baker said it was his father who helped him develop his appreciation for the game and athletics.
"For me, rugby was a part of life growing up," Baker said. "We'd always sit down together and watch all the games. [At] the school I went to in Zimbabwe, all sports were compulsory. You had to participate in cross country, swimming, athletics, rugby — it was all part of it."
When Baker was 12 years old, his family left Zimbabwe and immigrated to Australia. At the time, the Zimbabwe president implemented a program to reclaim land that the British had colonized and he saw as rightfully his. For white landowners, this created a lot of tension and hostility.
Baker said his parents saw the environment as detrimental to him and his two sisters, and ultimately the transition from Africa to Australia made his entire family stronger.
"Moving house is stressful for a family," Baker said. "I saw some things that I try to forget. … But, you know, we've come through a lot stronger [and] we're a lot closer now. You go through all the muddy waters so that you can come out a lot stronger."
Adjusting to the life in Australia, Baker said participating in sports was a way to help him ease the transition and develop new friendships. While playing rugby in a highly competitive setting in high school, Baker said the program's high standard for success caused him to lose some of his appreciation for the game. But after taking a gap year before college to travel to the United Kingdom to work, Baker said he rediscovered his passion for the game playing on his own time.
Baker applied to Ithaca College and after a lengthy application process — since he is still technically enrolled at Griffith University — Baker said he had some second thoughts as the move was finalized.
"I always wanted to have — this sounds a little cliché — the classic American college experience," Baker said. "It felt a bit daunting when I first set off. … But I wouldn't have changed anything and I've had the time of my life, in the short [three] weeks or so."
While Baker had planned to get involved in the club rugby team at the college, it wasn't until a club member saw him tossing a rugby ball on the quad that Baker got his first taste of American rugby. Senior Scott Kamp, co-captain of the men's club rugby team, said Baker brought a lifetime of knowledge of the game to a young team that will benefit from his experience.
"He knows the game inside and out, a lot better than anyone else," Kamp said. "Most of us have been playing this game for three years tops. So he's able to add a lot of insight to the team, and he's helping out even our veteran players with certain stuff to make the game go by easier."
On Saturday, the club played Division I Binghamton University, the club's first home game on campus in 16 years, dropping the match 35–14.
Annemarie Farrell, head coach and assistant professor of sport management and media, said it not only benefits the team to have Baker this season for what he contributes physically — having played almost every position throughout his career — but also for the persona he brings to the field.
"Having someone with that depth of knowledge and ability to make quick decisions is great," Farrell said. "Because he's played so long, a lot of players have such confidence in him. Just having somebody who is so excited about the sport and brings such an enthusiasm is really infectious to the other players."
In addition to playing rugby and enjoying college life in the next few months, Baker said he plans to travel to New York City and also spend Christmas in North Carolina with family he has never met.
Baker also said he hopes to instill some of the cultural traditions of rugby that he was raised around — from the pride associated with the team to group songs — to the club during his semester on South Hill.
"Rugby is more a culture or tradition than a game," Baker said. "You're really proud to be part of the game. … I was speaking to a few of the boys here and they were like, 'No, we don't have any traditions. We want to try to get that going.' So I'd love to bring a few of the things I know to the table."