When sophomore point guard Sean Rossi steps on the court for the men's basketball team, his head is always up and his eyes are constantly searching for open lanes to the basket to set up teammates for easy scores.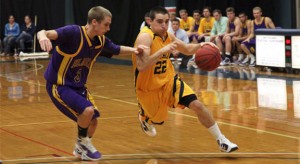 After leading Division III in assists last season as a freshman, Rossi is back at it, leading the country again with more than 10 per game — three more than his closest competitor.
Rossi said, though he's surprised about his accomplishments, it's all about maintaining his end-to-end, fast-paced style on the court.
"Coming in, I knew I had the tools to be successful, but I couldn't have imagined it would happen this fast," Rossi said. "Now it's about keeping up that work ethic to continue to get better and maintain that level of play."

Head Coach Jim Mullins said Rossi's freshman season propelled him forward as a basketball player.
"The biggest difference between this season and last for [Sean] is the confidence and poise that he gained," Mullins said. "He wasn't satisfied with the way last season ended, and that really fueled him over the summer to improve his game and try to take this team further."
Rossi, a good shooter with the ability to get to the basket, said he has always been a pass-first point guard, going back to his playing days at Sparta High School in Sparta, N.J.
"I played on a really good high school team with three other players currently playing in college," Rossi said. "When you have shooters all around you like I did in high school and here at Ithaca, it makes it easier to get everyone involved in the offense."
The Bombers' style of play is geared toward getting out in transition and pushing the tempo toward a higher scoring game. Dribbling up the court, Rossi controls the ball with short, precise touches, almost as if the ball is magnetized to his hands. He flashes past his defender with two sharp dribbles and a quick flip of his wrist the ball is gone, rocketing into the hands of an open teammate.
Rossi said the style and energy level Mullins demands is the perfect fit for his game.
"The coaches have really encouraged me to go to the basket more this season," Rossi said. "If the shot isn't there I can kick it out to one of our shooters."
After a Stevens Institute of Technology basket in the Bombers' 73–68 win Friday, Rossi received the in-bounds pass and, in an instant, threw a chest pass the length of the court to a streaking senior center Phil Barera, whose 6-foot-6-inch frame makes him an easy target, for an quick layup. It's a look Rossi said the coaching staff has emphasized this season.
"That's the first pass I'm always looking for," Rossi said. "Phil is so much faster than so many of the other big men that he consistently beats them down the court. Overall we have some guys that can run, so we're always looking for easy ways to get points in transition."
Once in the half court, Rossi's ability to control the ball with either hand and his court vision allow him to  improvise and create more open shots for his teammates when the defense must collapse. His play is a big reason why the Blue and Gold rank 10th in the nation in field goal percentage shooting at 50.1.
"We've been setting more screens this season and driving to the basket more," Rossi said. "If there's no opening in the paint there's usually someone open outside, and we have some of the best shooters in the country."
Rossi's smooth play has the Blue and Gold averaging just under 90 points per game — fourth best in the country. The Bombers' offense is only coughing up 10 turnovers per game — the seventh lowest in all of Division III — and the team's 1.83 assist-to-turnover ratio is first in the nation.
Rossi is not the first in his family to have an outstanding college basketball career. Rossi's sister, Staci, played point guard for Division II Rollins College in Florida and scored more than 1,000 points in her high school career. It's one accomplishment she said she never lets Rossi forget. Rossi finished high school with 968 career points.
"We used to go one-on-one until he started beating me all the time," Staci said. "We were always competitive as kids, even now. I'm just glad he came after me and has become as good a player as he is."
Rossi said the one-on-one battles toughened him up and gave him more motivation.
"Having someone to compete with definitely helped and fueled my fire to get better especially when I was younger," Rossi said. "Her game and mine are so similar, and I learned so much just watching her and my dad in the gym."
While Rossi's work ethic and determination on the court is geared toward creating opportunities for teammates, off the court he's exploring his own options for himself.
Rossi, an exploratory major, is interested in business management, and his father, Anthony, who was Staci's coach at Sparta High School, said it's Rossi's drive and focus that motivates him to improve.
"I'm very proud of what he's been able to do in class first and in basketball second," Anthony said. "He's worked his tail off in the gym and studying to get to where he is."
The Rossi family and Sean couldn't be happier that he ended up at the college after several schools in the northeast recruited him.
"A lot of schools were after Sean," Anthony said. "But we all feel he made the right choice coming here."
An assist is a stat that relies on two acts — the pass and the score — for one to be recorded. It is also an unselfish statistic, because it involves getting a second teammate involved.
Rossi's talent and unselfishness is put on display as he flashes a little smile every time one of his teammates scores.
Despite his success last season and so far this year, Rossi remains humble and said his teammates are the ones who deserve the credit for his  numbers.
"They have to put the ball in the hoop for me to get the assists," Rossi said. "There is nothing that makes me happier than setting up my teammates and seeing them get pumped after hitting a shot."