The men's swimming and diving team has had a winning state of mind this season. At its next meet, that mind-set will be a perfect fit.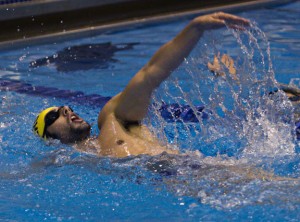 The Bombers, after a convincing 180–120 win against rival Union College in their last dual meet of the season, will look to maintain that momentum Wednesday at the Upper New York State Collegiate Swimming Association Championships in Webster, N.Y.
The Bombers are confident and relaxed as they sit on the verge of capping a 15–1 regular season with their first state or Empire 8 conference title since 2004. Strong performances from the team's 11 freshmen have given the Blue and Gold more depth on their roster than they've had in past years.
Sophomore Jake Lichter said the team's success is the product of the great chemistry between the athletes.
"The younger guys have done a really good job this year of stepping up in big meets," Lichter said. "The seniors and the juniors have done a really good job of explaining how things are supposed to go and really helped to motivate us."
Senior co-captain Steve Croucher said while the team's championship chances are as good as they've been in years, the team is less concerned with winning the meet than with doing well and having fun as they have all season long.
"I don't think there's been any pressure to win states," Croucher said. "We want to do the best we can, and if we win, that's awesome."
There are some additional differences between the Bombers' regular season meets and the UNYSCSA Championships, which draw 13 of the best teams in New York state and the Empire 8.
The meet runs Feb. 23-26, a full day longer than any of the team's other meets this season, takes place mostly during the middle of the week and contains five more teams than any of the Bombers' other meets.
The squad will only be competing in two sessions per day, and, as a result, the team will spend just as much time warming up and trying to stay prepared as they will be swimming.
Senior co-captain Kramer Jakubek said there's more to preparation than being physically ready.
"You've just got to stay mentally focused," Jakubek said. "That's the most important thing."
There is typically some fatigue immediately after each race, but Croucher said it usually fades away after five minutes, and the only time it may actually get to the team is on the final day when they're ready for the meet to be done.
What's more, when the Bombers take to the pool in Webster, it will be their first competitive meet since Feb. 5, when they beat Union. The Bombers have also had their biggest successes this season at meets where they were coming off of long breaks — most notably in victories at the Don Richards Invitational in Rochester, N.Y., coming off Thanksgiving break and the eight-team Henry Kumpf Invitational in Troy, N.Y., during winter break.
In order to mentally and physically prepare for meets, the team starts tapering, or gradually reducing their exercise leading up to a meet, senior co-captain Bobby Gendimenico said.
Tapering is a process the team practices where it scales back its high-yardage and focuses on technique and stroke, Lichter said.
"You try and conserve as much energy as possible, so that when you get into the championship meet, you give the best performance that you could all season," he said. "You just know you're going to swim fast and it doesn't really matter what day of the week it is."
Competing against a larger field of teams does have more of an effect on the Bombers' mind-set though, Croucher said.
"In dual meets, it's just eight guys swimming in one race," Croucher said. "This is kind of like a big mob, so you can just focus on yourself, take everything outside your mind and really focus on that one race without worrying about other people."
Jakubek said the Bombers also have stronger "sprinter," breaststroke and individual medley swimmers, even though they don't have as much depth in terms of distance swimmers.
The Bombers will have plenty of competition, with 12 other teams competing in Webster. Aside from underdogs Hartwick College and Union College, there's one team the Bombers are determined to beat.
"We've got our sights set on Stevens," Gendimenico said. "Stevens is nationally ranked, but we think we can knock them off."