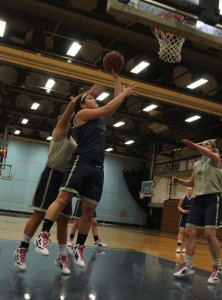 When a guard for the women's basketball team dribbles the ball up to the frontcourt, every opponent knows what's coming next — but they still haven't found a way to stop it.
As junior forward Devin Shea gathers the entry pass in the paint, two defenders collapse on her quickly and rise to take away what seems to be an easy layup. But Shea gently drops the ball into the arms of wide-open sophomore forward Jennifer Escobido instead for an automatic two points.
The precise timing of the play was almost poetic, but for Shea and Escobido it was simply business as usual, thanks to the court chemistry they have formed during the past two seasons.
Shea and Escobido took the keys to the Blue and Gold's paint area this season after last season's leading scorer, Elissa Klie '11, graduated in May. Shea said she was impressed by Escobido's hustle and intensity when the two first began practicing together at the beginning of last season.
"When Jenn first came in and I watched her as a player, she was just a workhorse," Shea said. "It was awesome to see a freshman come in and put that much effort into it."
The two forwards have led the Bombers to the top of the Empire 8 Conference in all rebounding categories as well as overall field goal percentage. Nazareth College
Head Coach Devin Gotham said the pair's versatility is what makes them so hard to defend.
"I know Escobido hasn't shot a lot of three-pointers, but she has the ability to shoot from the mid-range game," Gotham said. "And Shea is so good at the high post — she's so long and able to finish with both her right and her left hand."
The South Hill squad's high shooting mark can largely be
attributed to the easy baskets it's receiving from its dominant forwards. Escobido said she is able to find a soft spot beneath the basket once she recognizes how the opponent is defending Shea.
"When a team doubles down on her, I'll flash to the high post and get out in space for an open jump shot," Escobido said. "Or when she has the ball, she knows where I'm going to cut and she can get me the easy pass for the easy basket."
Shea, who ranks fourth in the Empire 8 in blocks, said each player's ability to find the other for open looks is refined with hard work between games.
Escobido, who leads the conference in shooting percentage, said the friendship she has with Shea off the court goes a long way toward developing their synergy during games.
"I'm over at her house almost every single day and we're always eating lunch together," Escobido said. "Just from being with each other every single day, we just build a sense of where each other is going on the court and what move each of us wants to do."