There are members of the men's swimming and diving team who are literally going head over heels for the team's success this season — four, to be precise.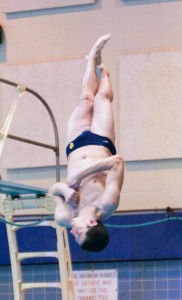 Sophomore Martin Brown, junior Derek Rand and seniors Mike Glicini and Norman Nguyen have all been vital in helping the Blue and Gold to a 13–1 mark this season, finishing at least second in 11 of their 12 events this season and winning six of those events.
But this coming weekend, the South Hill squad's divers will get another opportunity to prove their talents when the Blue and Gold host the Bomber Diving Invitational on Sunday.
The invitational is a one-day event where the Bombers compete against divers from SUNY-Fredonia, SUNY-Geneseo, Hartwick College, SUNY-Delhi, Utica College and Hamilton College.
Unlike regular meets, where divers only perform their six best dives or "optionals," the divers also perform five required dives, which come with a higher level of difficulty.
For the Bombers' divers, the invitational serves as both a chance to compete against other schools' best divers with their teammates cheering them on and a valuable warm-up for major postseason competitions such as the New York State Championships less than a month from now, Glicini said.
"Every meet is kind of a practice for states," he said. "This is really kind of a big practice for our conference invitational as well."
The divers might have the events to themselves at the invitational, but the support of the swimmers is still extremely important, Nguyen said.
"It means a lot to us when we can dive as a team and get cheered on by our own teammates because it's not often that we get to set aside time to really do that," he said.
Nguyen said being able to interact more with other divers at the meet is also important.
"With swimming, you don't really get to meet the other swimmers because you're worrying about your teammates and your own swim," Nguyen said. "With diving, it's a little different because you get to talk to the other divers since diving's a more social sport."
It's not just their teammates' support but also the chance to do more dives or the chance to interact more with opponents that distinguishes the invitational.
Rand said the divers find their  comfort zone when competing on South Hill.
"It makes it a lot easier and more comfortable just being at home and having everyone else come here," Rand said.
Of the South Hill squad's 10 regular season meets this year, seven are on the road and only three are at home. The invitational is actually also the Blue and Gold's home finale this season.
"To be honest, it kind of stinks," Glicini said. "Every board is different so it's more comforting when you get the home board advantage. For me personally, I'm able to relax a little bit more."
Of the dives in the invitational, "back" dives and "gainer" dives are worth the most points because of their difficulty.
For back dives, the diver rotates away from the board with his or her back turned toward the water. With a gainer, the diver faces the end of the board and rotates back toward it while moving forward and away from it.
The Bombers have been getting more in-competition practice for the postseason lately after competing in only one meet in December. The invitational will be the fourth official meet of January for the divers, in addition to an unofficial meet during their winter break training trip to Florida.
Glicini said the invitational can be draining because of its length but said that won't stop the divers from putting in the level of effort required to compete.
"You're typically just exhausted after this," Glicini said. "But really, it's all about making it good, making it look smooth, making it look clean and easy. And that's what it really comes down to at this meet."