Senior Andrew Brown has grown accustomed to being the only pole vault member for the men's track and field team.
"Most of the time, it has been just me," Brown said. "I got used to that in my first couple of years. Luckily I had a few goals I wanted to achieve, and those goals kept me motivated to succeed individually when I was practicing."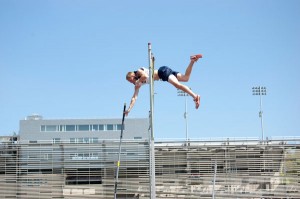 However, this year was different. Freshman Jeff Willis joined Brown in the pole vault.
"Having Jeff around has been good," Brown said. "Having him around in the weight room and during practice has really pushed me, and I think I have helped him."
Willis said having an upperclassman around to show him the ropes helped immensely.
"[Brown] is a coaching minor, and he wants to be a coach," Willis said. "He is like a second coach to me. He knows what he is talking about."
Willis said meeting his expectations early on as a freshman was a challenge.
"I'd say I was kind of disappointed at first," Willis said. "The transition from high school to college can be difficult."
Brown's love for pole-vaulting runs deep, and he continues to infect his teammates with his passion.
"If there was a pole vault major here, I would do that," Brown said. "I really love the sport and everything about it."
Pole Vault Coach Matt Scheffler said having Brown and Willis around each other has paid off during practice and training as well as at meets.
"Andrew Brown took Jeff right under his wing," Scheffler, who has been the pole vault coach at Ithaca since 2006, said. "Jeff hadn't done a lot of lifting in high school and so Brown showed Jeff how he could utilize the weight room."
Coming into the season, expectations were high for the team. But like any sport, the pole vault squad has had its ups and downs during the year.
"You always want more than you usually get, but you have to set goals high," Scheffler said. "There was a little bit of a lull dealing with the injuries, but they both have qualified for the [Eastern College Athletic Conference] Championship, and Andrew has qualified for nationals provisionally."
Willis and Brown both agreed that strong coaching has helped them this year.
"We have a really talented pole vault coach," Willis, who also had Scheffler for a coach in high school, said. "He is one of the best in the state, and his dedication is great. He keeps us motivated, and he pushes us all the time."
Brown said the relationship he has with Scheffler extends beyond pole-vaulting.
"Matt has been a great coach," Brown said. "He's very technical. I'm good friends with Matt, and it helps to have a coach you can talk about so much with."
This year Brown has had five first-place finishes and has broken his school record for both the indoor and outdoor season. But Brown said he hopes to raise the bar one more notch.
"I'm not really worried about the school records," Brown said. "Really, my overall goal is to go to nationals and be Ithaca's first ever All-American in the pole vault."
Willis is transferring to Clemson University after this year but said he will take what he has learned at Ithaca with him to the Division I level.
"The DIII training here has been intense," Willis said. "So hopefully Ithaca has prepared me."
With the season winding down, Brown said the team is focused on the remaining meets.
"The one big meet we have left as a team is the ECAC Championship," Brown said. "We got third last year, and then we got first indoors this year. I think we can do really well outdoors this year."
As a senior, Brown said he hopes to end his last season positively.
"It's been a good trip," Brown said. "I've made a lot of good memories, and I hope to go out with a bang."