After a long summer of outdoor training, the men's cross country team got some final tips from past Bombers before beginning its quest for a second consecutive Empire 8 conference championship.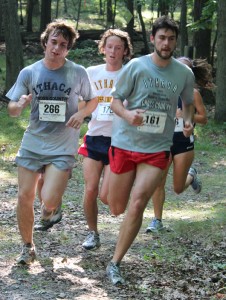 The Jannette Bonrouhi-Zakaim Memorial Alumni Run, which serves as a tune-up for the  team's regular season, started in the late '80s as part of a dual meet against Hartwick College and is named after the only Bomber ever to be named an All-American in all four years of college.
For the alumni, the Memorial Run is a chance to come back to Ithaca College and compete again. For the 11 current athletes, it's what senior team captain Daniel Craighead called a "rust buster" before facing regular season competition.
"It's an opportunity for us to see if what we did in summer training pays off," he said.
While some of the 48 alumni in the race graduated as early as the '80s and traveled from as far as North Carolina, graduate student William Way did not have to travel far at all.
Way, who is also a volunteer assistant coach for the team, participated in his first run as an alumnus after he used up his athletic eligibility last year. Way said he found running the race as an alumnus more relaxing than as a member of the team.
"When I was running here on the team I was real nervous," Way said. "I just tended to put a lot of pressure on myself, and now it's just coming out to a great event and having a lot of fun."
Way, who earned All-American honors with a 25th place finish at last year's national championships, said he misses competing for the Blue and Gold.
"I'm glad I'm able to stay around the team and help them out," he said. "I'm just going to miss that race-day atmosphere of getting in the huddle and getting really excited as a team."
Craighead said one purpose of the race was to figure out who the top runners are as the team heads into the start of competition.
"We had a whole group of four guys finish together, which is awesome," Craighead said. "You need that pack to really do well in competition."
Craighead finished ahead of all the alumni along with juniors David Geary, Mark Vorensky and Nate Bickell. He said the alumni were not above resorting to a little fun.
"This is a little bit crazier because the alumni try to mess with us a little bit at the start," Craighead said. "Pulling our shorts down, pushing us over. So thankfully we don't have to deal with that at a real meet."
Craighead said he enjoys getting to run against his former teammates.
"It's a lot of fun when they're still in shape like Way," he said. "And it's a lot of fun when they're out of shape, and we get to destroy them and make fun of them."
Craighead said the alumni tell the team certain points on the course to watch out for such as the uphill and downhill sections.
Head Coach Jim Nichols said the part of the Memorial Run that appeals to him is reuniting with some of the athletes he used to coach.
"I love it when the guys come back because this is their home," he said. "And now with the new A&E Center, that makes it more of a home for them."
While the Memorial Run does function as a final step in preparation for the regular season, Nichols said it also helps the team learn about the program's history and the alumni get a preview of up-and-coming runners.
"Our expectations are for our younger athletes to meet our alumni so they get to understand the history and tradition of our program and the goals and expectations our alumni set for them," Nichols said. "That way they know they have a great support base."