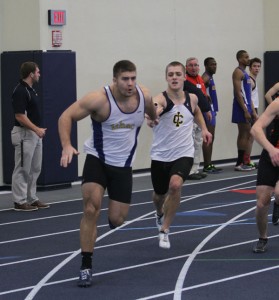 From left, junior sprinter Clay Ardoin takes the baton from freshman sprinter Kevin Davis during the 4×200-meter relay at Saturday's Ithaca Bomber Invitational in Glazer Arena. The two led the relay team to a fifth-place finish.
Junior sprinter Clay Ardoin and freshman sprinter Kevin Davis traded their helmets and cleats for batons and shoes when they competed on the men's indoor track team for the first time this weekend.
The two running backs on the football team made the transition to sprinting following a successful season on the football team, but the duo enjoyed strong careers in both sports at the high school level.
Ardoin was an all-league and all-Mohawk Valley selection during his time at Dolgeville Central High School in Dolgeville, N.Y. He qualified for the state quarterfinals in the 100- and 200-meter dashes as well as the 400-meter relay.
As a freshman, Ardoin earned a late-season call-up to the football team. Despite starting only two games during the 2010 season, he led the Blue and Gold in rushing yards, carries and touchdowns with 373, 105 and three respectively.
Ardoin said he wanted to move from the gridiron to the track with the Bombers following a two-year absence from competing in track in order to improve his flexibility and endurance.
"The explosiveness out of the start and the ability to finish a 200 will certainly help me become a better football player," he said.
Davis said he looks at this indoor track season as a way to stay in shape after he suffered several broken bones in his hand at the end of the football season.
"I didn't know if I was going to be able to lift with the football team," Davis said. "I sat around my room a lot and didn't do much, so I decided to run track as motivation to work out."
Prior to Saturday's Ithaca Bomber Invitational, Davis had not participated in a track meet since his days at Camden High School in Camden, N.Y. He was named the Bruins' MVP and an all-sectional team selection his senior year.
Davis said the mental preparation for football and sprinting events in track is similar, as both require a rapid release of energy. Sitting in the locker room before a football game reviewing plays is similar to the intense focus it takes to get in the zone before a sprint, he said.
"When I'm lined up in the backfield I'll usually envision my assignment for a play, and that helps me execute," he said. "I try to do the same for track in that I'll picture myself taking off perfectly and striding out to win the race."
Freshman Matt Femia, who helped the 4×200-meter relay team to a fourth-place finish in Saturday's meet, said the duo had the will necessary to succeed at the Division III level.
"You can tell they've brought their determination over from football to track," Femia said. "They're always focused on what they need to do from before the gun goes off and in between events."
Davis said Ardoin has helped him adjust to competing in a varsity sport in all three seasons along with handling the other pressures of college.
"I had a tough time in the beginning with my injury, but Clay has helped me with learning how to balance school, track and lifting all together," Davis said.
Davis said he competes for the South Hill squad in track and football because he enjoys the parity between independent and collective achievement.
"My favorite part of track is the feeling of an individual win — where all the credit goes to one person for the race," he said. "But I also love the team aspect of football when you run for a touchdown and there's 10 other guys running down the field to congratulate you."