Whether it was with a hit, strikeout, or stolen base, each member of the senior class on the softball team contributed to the Bombers sweep of St. John Fisher College on Saturday that earned them the Empire 8 regular season conference title.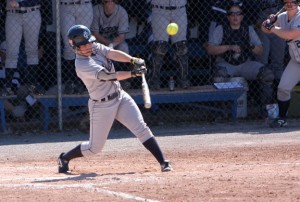 Through their adaptability and all-around talent, the class of 2011 has led the Bombers to two appearances in the NCAA Division III World Series and a pair of Empire 8 conference playoff titles.
Posters honoring each senior, including designated player Kerry Barger, second baseman Kait Dolan, first baseman Courtney Noster, pitcher and third baseman Allison Greaney, and pitcher and outfielder Britt Lillie hung on the Bombers dugout during Saturday's doubleheader, looking like retired numbers.
Noster, who ranks ninth on the all-time list in fielding percentage with a mark of .983, said she and her four classmates know they can rely on each other to make the necessary plays in the field.
"It's like we have ESP," she said. "We know what we have to do to motivate each other, and we know where each of us will be when the ball is put in play."
Lillie and Greaney have made impacts for the Blue and Gold as both pitchers and position players.
Greaney said while every senior  class wants to set an example for the rest of the team, these seniors wanted to pass on the adage that there was no substitute for hard work, especially when the team was forced into early morning practice times at the start of the season.
"Those early 5 a.m. practices were a struggle," she said. "But at the end of the day the five of us knew we just had to show everyone that this was what [being on the team] would take and not complain about it."
Freshman outfielder Rachel Dell'Orto said the seniors helped the younger players adopt a team first mentality, will to win and focus on individual progress. She said their upbeat attitude inspired the team during the large gaps in the schedule.
"They were always looking to help us," she said. "Even if they were giving us criticism on something we were working on, they were positive about it all the time," she said.
Head Coach Deb Pallozzi said the senior class's versatility and confidence made them stand out.
"We've been able to win a lot with this group because of their ability to step up when other players were down," Pallozzi said. "They've been able to play everywhere in the field and never questioned their own talent."
Pallozzi said Dolan was the most influential player in the senior class, stealing a career high of nine bases during her junior year —coming off a season that limited her to 10 games because of blood clots in her left leg.
Saturday's postgame ceremony was one of jubilation and nostalgia for the senior class, with a 9–4 win followed by a 2–1 walk-off win to end the afternoon.
Lillie said she enjoyed reflecting on her achievements after the game but did not feel any sense of finality to this season.
"It's always good to look back on your accomplishments over your four years here because each season does fly by," she said. "But we know Saturday's game was only the first step to achieve what we're ultimately trying to accomplish."