Timing in the passing game is one of the most crucial aspects in football. Quarterbacks, receivers and the offensive line must be completely in sync in order for plays to be successful. For senior quarterback Rob Zappia, his timing couldn't be better in his first full season behind center for the football team.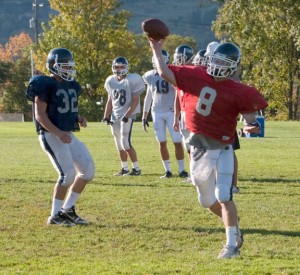 Stepping up to fill the position vacated by Brian Grastorf '10, Zappia has led the Bombers to a 3–1 record while averaging 238 passing yards a game and posting a 7-to-1 touchdown to interception ratio. Zappia, a first-time starter this season, said the time he had to wait to be the starter prepared him for his success early this year.
"Waiting these past three years for the opportunity to start made me want it even more," Zappia said. "Once I got the job I knew I couldn't give it up. I just had to make sure I was consistent week to week, and we were winning games."
Head Coach Mike Welch said Zappia's success is the product of his work ethic, natural leadership skills and his experience in the Bombers' offensive system.
"He knows how important it is to lead by example," Welch said. "He doesn't say a lot, but he's not afraid to assert himself and let his teammates know when they need to be doing something different."
Zappia said his success is connected to having experienced veterans around him, easing his transition into the starting role. Preseason All-American senior tight end Dan Higgins and senior wide receivers Thomas Vossler and Dan Ruffrage have been teammates with Zappia since freshman year.
Zappia has thrown 33 of his 75 completions to this receiving trio, as well as four of his seven touchdowns this season. Zappia said he has developed a comfort level and understanding with Higgins, Ruffrage and Vossler.
"Knowing in the back of my mind that they are going to know exactly where they are supposed to be on a given play takes a lot of pressure off me and is a very comforting feeling as a quarterback," Zappia said.
Welch said Zappia's familiarity with the players around him allowed him to have immediate success in filling the role at quarterback.
"There's a high level of trust between [Zappia] and his receivers," Welch said. "They've been throwing to each other for a long time even though he hasn't been the starter. He knows they are going to be in the right spots and [he's] not afraid to throw it in there."
The Bombers' offensive line is another area that has benefited from Zappia's play this season. Sophomore center Nathaniel Hemingway, who is also a first-year starter on offense, said Zappia's ability to stay calm has helped ease his transition into the starting role on the line.
"Me and [Zappia] have really worked together to build the chemistry necessary in a center-quarterback relationship," he said. "Whether it was watching film together or taking extra snaps after practice, [Zappia] was willing to do whatever it took to succeed."
Hemingway also said Zappia's leadership and ability to keep the team focused has helped everyone come together and work as one.
"He's a battler, plain and simple," Hemingway said. "When you see your leader working hard and giving his all in every facet of the game, it makes the rest of the team want to do the same."
The Bombers' and Zappia's hard work and desire has paid off so far this season for the offense, which is averaging 29 points per game in their first four contests.
The Bombers will look to maintain their aerial attack at 1 p.m. Saturday when they go up against Hartwick College at Butterfield Stadium.