Squatting behind the dish has been a trip around the bases for senior Mike Armstrong. The baseball team's starting catcher has played for three different schools throughout his collegiate career but says coming to Ithaca was the best decision he has made.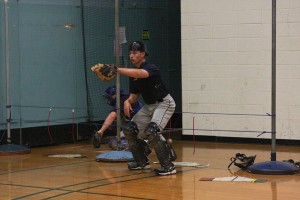 Armstrong said moving from team to team has been a positive experience that has helped him grow as a player and as a person.
"I've tried to look at all the travels as a learning experience," Armstrong said. "The experience of playing with different guys on different teams has been awesome. I've really benefited from it."
After considering playing for Ithaca College out of high school, Armstrong chose to play at Clarkson University his freshman year. Armstrong said he enjoyed his freshman season as a Golden Knight, but he wound up transferring to St. John Fisher College after deciding to change his major.
Armstrong wanted to transfer to Ithaca for his sophomore season but missed the admission deadline. Originally from the Rochester, N.Y., area, Armstrong initially thought Fisher would be the answer, but he said he did not enjoy the playing experience there. Another year and three more major changes later, he was a Bomber.
"Being home wasn't what I dreamed it would be," Armstrong said. "I spoke to [Head Coach George Valesente] during my sophomore year, and after I came down on a visit, I knew [Ithaca] was where I wanted to be."
Armstrong, now a history major, has made his presence felt behind the plate since joining the program as a junior. In his first season as a Bomber, Armstrong started 21 games behind the plate. After working hard in the off-season to solidify the starting job at catcher, he has started in 12 of the team's 16 games this season. Valesente said Armstrong has done a great job handling the pitching staff in his second season as a Bomber.
"Mike communicates well," Valesente said. "He does a really good job with our pitching staff."
Senior pitcher and ace Tom Fishback has had the opportunity to get close with Armstrong over the past couple of seasons. Fishback said Armstrong has become a true leader behind the plate calling games, something he says the team has lacked in past seasons.
"His ability to call a game is one of his bigger strengths," he said. "It's something he really learned over the past year now that he has more of a feel for pitchers on our team and how we like to throw."
The responsibility of calling games behind the plate was what attracted Armstrong to Ithaca.
"At St. John Fisher, I didn't get to call the game," Armstrong said. "Every pitch was called by [the] coach. I really enjoy calling my own game. It lets me be creative, and I feel I have a good grasp on how to approach hitters."
While Armstrong has created a good line of communication between himself and the pitching staff, in the team's 6–10 start, the Bombers' team ERA is 4.88, the second worst in the Empire 8. Last season, the Bombers finished with a team ERA of 3.18.
"Location has been our biggest issue," Fishback said. "No matter how hard you throw, if you throw the ball belt high, you are going to get hit. Lately we have been struggling with that, but we have been working as a pitching staff to get back to the way we were pitching last year."
For Armstrong and the Bombers' pitching staff, getting better each day has been the motto of the season. And with 11 Empire 8 contests in their next 14 games, the team will need to peak at the right time.