When people talk about how important experience is in terms of athletics, there are few positions where it proves as valuable as it does for pitchers.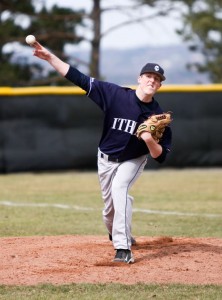 No other game changes so much from play to play than baseball. With every ball, strike or base runner, a pitcher must adjust his game plan in order to adapt to the new situation. The more situations a pitcher goes through, the more prepared he is to go through them again.
Experience has been one of the keys for senior Dan Lynch, who leads the team with 25 innings pitched, 15 strikeouts, an opponents' batting average of .207 and a 3.24 ERA. Lynch, who threw five innings and gave up only two earned runs in a doubleheader against Rochester Institute of Technology on Sunday, helped the Bombers to a 6–4 victory.
Lynch said in the early innings of the game, RIT was making contact, and Head Coach George Valesente changed his approach.
"Early in the game, they were focusing on just making contact on my off-speed pitches and not trying to do too much," Lynch said. "They we're doing a pretty good job, so coach told me to start throwing more fastballs inside. I felt confident enough that I could switch up my game plan."
After giving up one run in each of the first three innings, Lynch held the Tigers scoreless in the fourth and fifth, giving the Blue and Gold a chance to come back and eventually win the game.
Senior and pitcher Andrew Wall, who has struck out 13 batters and given up only 15 hits, said despite some early season struggles, he knows from experience he can turn it around.
"I've struggled this season getting my breaking pitches over the plate, and that in turn leads to hitters sitting on my fastball," Wall said. "It's frustrating because you know that you have the physical tools to compete at this level, but so much of pitching is mental."
Wall said he has worked hard with Valesente — who also serves as the team's pitching coach — to try and remedy the problem.
"In bullpen sessions I've really been working hard to keep my elbow up because it's been dipping more this season and causing the ball to flatten out," Wall said.
Wall also said the Blue and Gold must get stronger mentally.
"Physically, we know we can go out and compete," he said. "It's just having the confidence to trust our abilities that has been the problem."
Junior Ian Rebhan, who played on the junior varsity team last season, has taken the biggest step forward of any Bombers' pitcher. Rebhan, who has a 3.60 ERA, currently has a 7 2/3s inning scoreless streak and has become one of the Bombers' go-to pitchers out of the pen.
Rebhan, Wall's roommate, said he has taken away almost as much living with his teammate as he has on the field.
"Just being around some of the older guys, talking with them about pitching and how they approach different situations throughout a game has been crucial," Rebhan said.