Senior distance runner Kate Leugers has routinely turned in the fastest times for the women's indoor track team this season. Leugers, who currently has the team's best time in the 800-, 1,000- and 5,000-meter runs this year.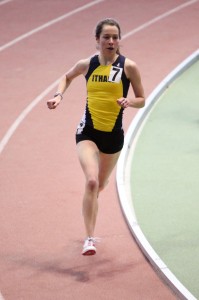 Leugers, a Richmond, Vt., native, transferred from Providence College in Rhode Island to Ithaca College as a sophomore and immediately made an impact on the program. As a sophomore, she broke the school record in the mile at the Eastern College Athletic Conference Championships and qualified for the NCAAs, where she placed 13th in the country. Last season, she broke her own record in the mile and provisionally qualified for nationals a second time.
Leugers also competes in the distance medley relay, which comprises a 1,200-, 400- and 800-meter run and the mile, and is ranked 15th in the country.
Sports Editor Andrew Weiser spoke with Leugers about her record-setting pace and the chance to qualify for NCAAs for a third consecutive season.
AW: You have the fastest time in the 800-, 1,000- and 5,000-meter events. Is that something you anticipated coming into this season?
KL: I was kind of surprised because in the 800 we have some really speedy girls, so I wasn't really expecting to have the fastest time in the 800; that's kind of more toward anaerobic, and I'm really more aerobic, so it was kind of like speed work for the mile. The mile, I just love it.
AW: While running the mile do you keep track of time in your head, or do you have a certain time you have to hit every lap?
KL: It's actually something I want to work on this year, just strategy. Because a lot of times I'll go into a race, I don't really have a strategy, like I have a time I want to hit, but I don't really have the steps to get there. Our team is very pace-oriented, so we'll have a little bulletin before the race that says, "Leugers, 36 seconds a lap," so it'll say the exact pacing per lap. … I'm kind of trying to get away from that, because sometimes you're feeling good and you hear this pace and you're a little fast, so you think you can let up. I feel that may kind of cap what you can do, and I'd rather go for something like competition.
AW: Does the competitive environment of a meet change when you're going up against the top athletes on the national stage?
KL: I get really intimidated by nationals; it's a completely different environment. It'll be cool if our DMR makes it because I have the experience now and kind of know that it's not a fluke that I'm there, there's actually a reason why I should be there. I ran to be here.
AW: Does competing on a relay team, instead of as an individual, change your mind-set going into a race?
KL: There's definitely something different about a relay. When you're running, you're not thinking about yourself — you see the other girls on your team who are cheering you on, and it's like you're doing it for them and not just you. You have that little extra because it's not just yourself on the line.
AW: Is there any specific meet or race you're looking forward to, considering this is your senior year?
KL: Going to Boston University this weekend will be cool, actually, because the last time I was there I was racing for Providence. So, donning a different jersey, and also I'll be toeing the line probably with some Providence girls, so it might be kind of weird, but that's a fun atmosphere.
AW: As you and the team begin to build toward the postseason, is nationals always the ultimate goal?
KL: [Head Coach Jennifer Potter] has talked about getting numbers to nationals. It's kind of cool because since I transferred here, just seeing little by little, and not even every year, but even every season, getting that much better and more people qualifying for states, ECACs and nationals. It's definitely really exciting, and I feel that it's kind of culminating, and it'll be exciting to see what we can do.