Opportunity comes every time the ball is placed in senior Tom Fishback's hands. But for Fishback and his three fellow senior teammates, opportunity runs scarce as the season winds down on the baseball diamond.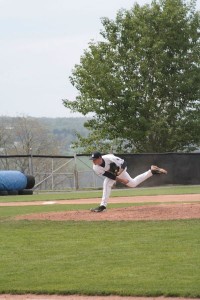 "These last few weeks means everything to me," Fishback said. "I'm so competitive, and this is the one aspect of my life where I get to bring my competitiveness out. I want to keep the season alive and fight for everything we can."
Seniors T.J. Abone, Jon Krakower and Mike Armstrong join Fishback as part of an unusually small senior class of players. Fishback and Abone are the only seniors on the squad who have been in the program all four years.
Krakower transferred to the college in his sophomore season and Armstrong in his junior season. Abone spent his freshman season with the junior varsity team, leaving Fishback as the only player having been on the varsity roster for all four years.
While this class of seniors has not quite made the four-year journey together, they still share a close-knit bond on and off the field. It is a bond that has Head Coach George Valesente confident in his group of leaders.
"They are a group that really gets together and goes over things we have done right and wrong," Valesente said. "It's good to have seniors that are focused and have more of an understanding on how to set the tone for the team."
While Krakower and Armstrong have not been around quite as long as their fellow senior teammates, they have found a way to make up for lost time. The group lives together off campus, which Abone says has really helped to form the same bonds on the field as they have off the field.
"We are like one big family," Abone said. "There is no other thing in the world that you can beat than being associated with a team. The bond is really bigger than I realize. In 10 to 20 years, I know I'll look back as this being the most enjoyable aspect of college and growing up."
But before leaving, they still aspire to leave their mark. This opportunity comes with a sense of urgency, though, as the team is only 16–15 and has just seven regular season games remaining to make its statement. It is the type of adversity that Fishback said he has grown accustomed to facing throughout his collegiate career.
"The biggest thing I'll take away are the life lessons," Fishback said. "Coach will tie every experience on the ball field into a real-life situation, like having to stare failure in the face of defeat, and how you'll have to do that in the workplace someday. Things don't always go your way, but you still have to fight back."
The Bombers start their fight this afternoon against East Hill foe Cornell University. The in-town duel marks the first of the Bombers' final seven games to be played in Ithaca. While the exiting senior class may be small in size, they are not afraid to be bold.
"We still have a shot of getting into the playoffs, and if we do, I still think we have a good shot of winning regionals," Abone said. "I'd love to make a Cinderella story here in the last few weeks."