Men's basketball
Despite falling 88–75 to St. John Fisher College in the Empire 8 Conference Championship tournament semifinal  Friday, the men's basketball team earned an at-large bid to the NCAA playoffs and will host first and second round games this weekend in Ben Light Gymnasium.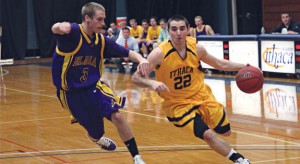 The Bombers, who finished 20–6 this season, will face Massachusetts Institute of Technology at 7:30 p.m. tomorrow.
Sophomore point guard Sean Rossi said he was relieved when the team made the tournament and surprised when he found out the Bombers would get to host a regional.
"Losing to Fisher really left a bad taste in our mouths, and we were disappointed with ourselves," Rossi said. "Just getting to play another home game and potentially two means a lot — especially in front of a good crowd. We feel like we let them down last time and want to make up for it."
Rossi said the offense was never able to get into a rhythm against St. John Fisher, and the squad's shooting suffered because of it.
"We need a good week of practice to get back into the flow of things and put the loss behind us," Rossi said. "The Fisher game is going to have no bearing on what happens against MIT, and we're focused on Friday's game."
If the Bombers win, they will face the winner of the University of Rochester and Elms College game Saturday at 4 p.m. in Ben Light Gymnasium.
– Harlan Green-Taub
Wrestling
The wrestling team captured its third Empire Collegiate Wrestling Conference Championship title in four years Saturday, finishing first of nine teams. The Blue and Gold went 14–2 overall in dual meets and 5–0 in conference matches this season.
This year, the Bombers will send seven wrestlers to the NCAA Championships held in La Crosse, Wis., on March 11 and 12. Seniors Blaine Woszczak, Nick Sanko and David Priest; juniors Seth Ecker and Jeremy Stierly; and sophomore Derek Brenon all won their respective weight classes in the ECWC Championships to earn bids to the NCAAs. Junior Matt Mahon will also be competing via a wild-card berth.
Woszczak, who set the school record with 134 career wins this year, said this season will be one that will be remembered for a long time.
"Even though we've accomplished great things this season, we have our eyes set on the big prize — to bring back that national title back to Ithaca and back to the East Coast," Woszczak said. "We have worked hard enough, prepared ourselves as best we can and now it's our time to take the opportunity we are being given."
– Andrew Kristy
Women's swimming and diving
The women's swimming and diving team won the Upper New York State Collegiate Swimming Association and the Empire 8 Championships on Saturday after four days of competing in Webster, NY. This marks the Bombers' 12th straight conference title and fourth consecutive state crown.
Senior freestyle swimmer Sheila Rhoades, who broke two championship meet records, was named Empire 8 and Co-UNYSCSA Swimmer of the Meet.
Sophomore breaststroke and individual medley swimmer Carly Jones said the team's success at states is helping to pump the team up for nationals.
"This past weekend, it was really exciting to see how everyone did," Jones said. "So now it's another boost to get us going to nationals to see what else we can do."
The Bombers made 10 NCAA B qualifying standards and one NCAA A qualifying standard during their four days of competition. Three school records were also broken.
With eight team members achieving NCAA qualifying times, Jones said the team has high hopes of beating last years' results.
"We want to make top 15 definitely," she said. "We placed 14th last year, and we're hoping to place higher because we might have more people going so we can have a stronger team."
– Danielle D'Avanzo
Gymnastics
After posting its highest score of the season, 186.325, Feb. 23 against SUNY-Cortland, the gymnastics team is shifting its attention to the Eastern College Athletic Conference Championships on Saturday.
The South Hill squad will look to be one of the three teams to qualify for the National Collegiate Gymnastics Association Championships on March 25 and 26 in Eau Claire, Wis.
The Blue and Gold are currently ranked third going into ECACs behind SUNY-Brockport and SUNY-Cortland. During the regular season, the Bombers split both their meetings with the Red Dragons and Golden Eagles.
Junior Jessica Bolduc said the margin between winning the meet and being left out of nationals could be slim.
"I would say about five schools are up there," Bolduc said. "So that's why it's kind of nerve-racking."
Bolduc, who posted the second highest score in school history against Cortland, said after the meet against the Red Dragons the team is confident about their chances to qualify for nationals.
"Our goal last Wednesday was to hit a 186, and we met our goal," Bolduc said. "So I feel that if we set another goal that's tangible we will be able to accomplish it, and our goal is to place in the top three."
–Nathan Bickell
Men's swimming and diving
The men's swimming and diving team turned in one of its strongest seasons in team history this year, winning 15 of 16 regular season dual meets and its first Upper New York State Collegiate Swimming Association and Empire 8 titles since 2004.
At the state meet, the Blue and Gold rallied from a 67-point deficit to Stevens Institute of Technology in the team standings Saturday to claim the crown.
Junior individual medley and backstroke swimmer Jeff Rapp, who met an NCAA B qualifying standard and broke his own school record in the 200-yard individual medley at states, said the team's success can be attributed to their resilience and effort.
"Our main goal for this year was to win states," Rapp said. "That's what we thought about every day after practice."
The only thing remaining for the Blue and Gold this postseason is to take their success to a national level, which they'll do starting March 23 at the NCAA Championships in Knoxville, Tenn.
Bombers' divers senior Mike Glicini, junior Derek Rand and sophomore Martin Brown have all qualified for NCAAs.
– Alex Holt