Senior Melissa Nunez shifts her weight, receiving the serve with a powerful forehand, while her doubles partner and sister, sophomore Cristina, follows up the return with a crushing stroke to put away the point against their opponents from Alfred University. Both sisters, with almost identical smiles, come together and acknowledge the point with a high five.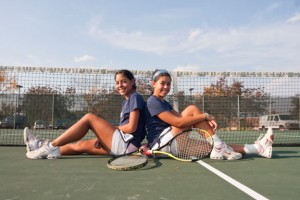 This simple moment that they share after every point is only a small part of the connection and bond Melissa and Cristina share on and off the court.
As a doubles team, they posted a 13–5 record in the 2009 season. This season, the duo will look to lead a women's tennis team that won the preseason vote to finish in first place in the Empire 8 conference and has won 45 consecutive Empire 8 matches since 2004.
For Melissa, an athletic training major, and Cristina, a sport management major, their reliance on each other is something they developed from an early age with the help of their family.
The Nunez sisters practically grew up on a tennis court — they've been playing since Melissa was slightly under 6 years old and Cristina was 4. Melissa said a family holiday jump-started their tennis careers.
"For Christmas one year I got a tennis racket because I was old enough," Melissa said. "And my sister saw that I had gotten one and she got really, really upset and mad at my dad because she expected to get one. So she pouted and didn't talk to my dad until one day he got her one."
While the sisters progressed as individuals and athletes, Cristina separated herself from Melissa in tennis. Cristina went on to become a four-time Most Valuable Player at Morris Hills High School in Morris Hills, N.J., and competed in national tournaments from Virginia Beach to Texas. Melissa said it doesn't bother her that Cristina is considered the "tennis player" of the household. The tournaments brought the entire family enjoyment as they got to travel around the country.
"I have no problem saying she's better than me," Melissa said. "I'm so proud of her."
Their development started with a familiar source — their father, Bob Nunez, who is a professional tennis instructor. Bob said his daughters were able to grow as tennis players because of their commitment to the game.
"They practiced all their lives," Bob said. "We'd always go out on the court together. They grew up hitting with each other."
The Nunez family bond doesn't end with their dad. Cristina said her mom, Ruth Nunez, sometimes wouldn't be able to watch the drama unfold because of her attachment to the outcome.
"Mom has traveled and gone everywhere for us," Cristina said. "She would come to our matches and wouldn't be able to watch. She would get so nervous she would walk away. We'd walk up [after a match] and she'd be in the car."
Ruth said having her daughters on the court together evokes an emotion that is almost indescribable.
"It's more than happy," Ruth said. "It's not only that they're playing together, but how they get along together."
Though the sisters don't live with each other on South Hill, Cristina said they go out of their way to spend time with each other.
"We call each other just to hang out," Cristina said. "We can go to a dining hall together. We're best friends in a way."
However, the Nunez sisters didn't begin playing doubles together as soon as Cristina arrived on campus. Head Coach Bill Austin said the decision to make the sisters doubles partners came midway through last season.
"We went over the pros and cons," he said. "They hadn't played as a team, but it worked out and they had a solid season together. They grew up playing together, and they were tremendously well schooled in the fundamentals of the game."
Melissa said their success comes from the combination of their two distinctive styles of play — Melissa possesses raw ball striking ability, while Cristina has pure technical tennis skills. Melissa displays grit and is able to stroke lasers past her opponents, especially utilizing an authoritative backhand that she hits consistently. Cristina, on the other hand, effortlessly glides about the court and dismisses opponents with elegant, clever play — from pin-point shots down the line to deft strokes at the net.
"We complement each other," Melissa said. "I'm more of a powerhouse, and she's more of a consistent, steady player. So we even each other out."
Cristina said being sisters helps them when there's a problem on the court.
"We know when one of us is mad," Cristina said. "We can tell when we're not playing well. It's different because we're not afraid to talk to each other. Other players sometimes don't know how to talk to each other."
Though Melissa and Cristina have been playing tennis for nearly a decade and a half, their passion for the game has not wavered, Melissa said.
"I love it," she said. "It's a part of my life. I want to be that 80-year-old grandma shuffling around the court playing with my grandkids."
This connection that was nurtured from a Christmas present now breeds success on the tennis court. Melissa said this relationship is as important off the court as it is on the court.
"We rely on each other for everything out there," she said. "She's my only sister, and I'm going to rely on her for the rest of my life. Being doubles partners is just a good start."