Intense fans are a staple across sports — whether it's the New York Yankees' "Bleacher Creatures" or the Green Bay Packers' "Cheeseheads." At Ithaca College, one of the most dedicated fan bases isn't for one of the typically considered "major" sports, though. It's for the swimming and diving teams.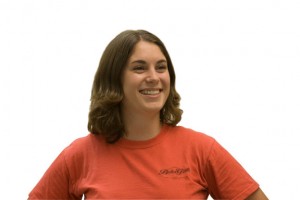 Junior Brian Rettger said the group of swim fans (much different from that of the movie) formed like most other groups of friends — they either lived with or near one another early in their college days.
After transferring to the college his sophomore year, Rettger got paired with a random roommate, then-sophomore Joe Gage, who at the time was one of the best swimmers on the team. Gage has since transferred to Cornell University and does not swim for the team there, but he rides out his glory days in the stands at the Hill Center Pool.
"I love the team, and I love the sport," Gage said. "I don't think I could've gone cold turkey on that. It was definitely important to me to stay in contact with everybody."
Gage said considering he goes to school just a hill away and still lives with many swimmers, it was easy to make the transition from the pool to the stands and become what some consider the "swim groupies."
Rettger said "groupie" doesn't really fit the context of the fans and friends of the swimmers, though.
"Groupie implies that we're doing it with the swim team," he said. "I make a point of not getting involved with swim people — girls, actually. That just gets messy sometimes. I don't really like having a group like that."
Rettger said the group consists of about 10 regulars with others who come and go less frequently. The group tends to revolve more around the men's swimming and diving team but also follows the women's team, he said.
Rettger said they didn't do anything special for the Bombers' win over Rensselaer Polytechnic Institute in their home opener this weekend, but the group makes an effort to travel to the New York State Championships.
"States isn't so bad because it's only Syracuse, so it's like an hour," Rettger said. "We had like T-shirts that said something about Ithaca swimming."
Gage said the group doesn't have any particular rituals that they do during meets — just average cheering. For him, it's the swimmer more than the fan that's hard to keep tucked away.
Gage said all of his involvement has helped shape his college experience.
"The swim team is a group of really great guys, and I like them a lot," he said. "It would be hard to imagine going to school without knowing all of them."