On March 24, junior infielder Molly O'Donnell stood at the plate down to her last strike with the softball team trailing Rensselaer Polytechnic Institute by three runs in the bottom of the seventh inning. One pitch and 210 feet later, she was able to send the game to extra innings with one swing of her bat.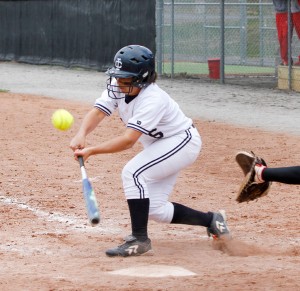 O'Donnell has jump-started the South Hill squad's powerful offense by hitting three home runs. She also leads the team with a .404 batting average and 16 RBIs.
After the second game of the Bombers' split doubleheader against Rensselaer, O'Donnell said the Blue and Gold's offensive production was infectious, and a single offensive play had the power to ignite the late rally.
"We get that one hit and usually get excited for one another, and that sparks everyone to hit thinking that they could do the same," she said.
O'Donnell is not the only member of the South Hill squad putting up high offensive numbers this season, as sophomore catcher and third baseman Sydney Folk has gone deep three times and is hitting .326. Folk and O'Donnell are also in the top four on the team in hits, total bases and on-base percentage.
Folk said an altered focus on training in the offseason has allowed her to use more of her entire body in her swing.
"The difference between this year and last year is being able to pick up on the changes the coaches are making to our swings by using our back hips and really being able to drive the ball," she said. "In high school, I was more swinging from my upper body. Now I am using more of my legs to drive through the ball rather than using just my arms."
The Blue and Gold have held a home run derby in practice on several occasions throughout the season. O'Donnell said though she and Folk are the team's two primary power hitters, there are other players who can get timely hits before the home runs sail over the fence.
"We have players who can drive the ball, but we also have those who can get on base through bunting and some who can move runners over when needed," she said.
Head Coach Deb Pallozzi said the South Hill squad was able to make adjustments in each one of its at bats during a pair of wins against SUNY-Old Westbury on March 21.
"We're doing a better job of handling the away pitch, and we were able to allow the ball to travel deeper and drive the ball to right field more often," she said.
The Blue and Gold are ranked 34th out of all 389 teams in Division III in home runs per game. They are entering a tough portion of their schedule, however, with 10 of their next 14 games on the road.
O'Donnell said maintaining an optimistic outlook will help the Bombers sustain their power and improve their overall record of 7—10.
"We just need to focus on our mentality when it's our turn at bat and stay positive when we're at the plate," she said. "Instead of thinking 'I don't want to swing at this', we think of what we want to swing at and try to find that perfect pitch."