After tallying just 24 hits in their first nine games in Florida, the softball team combined for a total of 23 hits winning both games today against the SUNY-Old Westbury Panthers.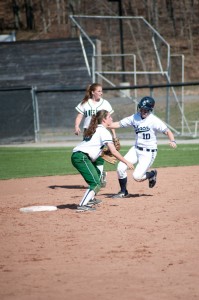 The Blue and Gold broke the first game wide-open early with a 10-run second inning. Sophomore outfielder Rachael Dell'Orto and freshman catcher Monica Capolongo led the rally with a three-run triple and a three-run double, respectively. Capolongo added another RBI in the fourth inning, giving her four total for the day in the Bomber's 13-0 win.
That early lead was more than enough for sophomore pitcher Sam Bender, who threw five scoreless innings giving up two hits and striking out two. The Blue and Gold ended the game after five innings due to the eight-run mercy rule.
In the second game of the doubleheader, the Panthers struck first scoring a run in the top of the second. That run, however, would be sophomore pitcher Julian Olmstead's only blemish on the day as she went on to pitch a complete game while only surrendering two hits and one walk in the South Hill squad's 10-1 win.
Head Coach Deb Pallozzi said after the game that the pitchers performed just as well as they did in Florida but benefited from the plentiful run support throughout the game.
"They must feel a little more comfortable that we scored a few runs," Pallozzi said. "That's going to make them feel good that they don't have to be perfect and that they can give up a run or two, and we can score runs and answer back."
Junior catcher Lindsey Johnson said the game plan for Bender and Olmstead was to pitch to batters and let the defense do their job behind them.
"We set goals coming back from Florida for what the pitchers needed to improve on," Johnson said. "One thing was getting the walks down and that's what we did."
The Bombers' offense picked up where they left off in game one by scoring four runs in the bottom of the second and fourth innings. Johnson, Dell'Orto and sophomore catcher Sydney Folk each had home runs. Dell'Orto's three run blast gave the Blue and Gold a commanding 7-1 lead, as Dell'Orto ended her day with three hits and seven RBIs total.
Junior first baseman Carianne D'Alessandro said the Blue and Gold were able to settle in more on their own home field. The home-field advantage helped them simpifly the game and hit more consistently than in previous games.
"We swung that bats well, and we didn't miss a beat today," D'Alessandro said.