When the women's soccer team played in the Final Four of the NCAA Tournament for the first time in more than a decade Friday, sophomore forward Ellyn Grant-Keane said she felt more pressure on her than she had the entire season.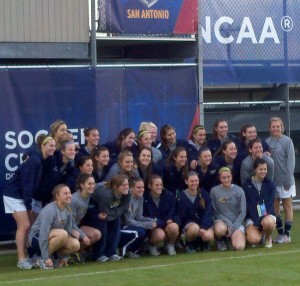 Grant-Keane had an assist on the lone goals in a pair of 1-0 playoff wins against Ohio Northern University and Trinity University.
Sports Editor Kevin McCall spoke with her about the team's playoff run and her experience playing in the Alamo City, which ended with Friday's 2-0 loss to Wheaton College.
Kevin McCall: How did you feel when you were not only defeating your opponents in the playoffs, but also shutting them out?
Ellyn Grant-Keane: All the shutouts were team efforts, but from my standpoint, getting those wins was more about wanting to win more than the opponent. Playing harder on defense and attacking the net on offense all together were really what those games came down to.
KM: Can you talk about the chemistry you had with junior forward Rachael Palladino during the NCAA playoff run?
EGK: It's just something that we had developed from playing such a long time. We've been playing together since we were 10 years old, and I know she'll be able to find me when I get open. We're always in constant communication with each other on the field, which helps us succeed.
KM: What were some of the things you did with the team in the time between arriving in San Antonio and playing the game?
EGK: We had a walk-through practice Thursday, and then we had a team-building activity with Special Olympics children where each team hung out with a few of them for about an hour. We were able to teach them some stretches and some ball skills on the field. The experience showed us that being there wasn't just about the soccer game, but how much we affected the community around us. We also had a banquet at the Alamo that night with the other teams that were playing in the tournament.
KM: Were there moments when you realized what you had achieved by getting into the Final Four?
EGK: Definitely landing in San Antonio and seeing the NCAA Championship banners were signs we had made it deep into the playoffs. When we finally woke up on the day of the game, I realized we would have to play with a lot of heart if we wanted to win.
KM: How would you describe the atmosphere before the Final Four game against Wheaton?
EGK: It was great to be in Texas because we had never played in such a warm climate before. A lot of our family and fans were there, so having them come support us in an environment where we felt a lot of pressure meant a lot. Being in the Final Four was something we had only dreamed of at that point, so it still felt a bit surreal to be there, especially since we weren't expected to get there to begin with.
KM: What did you feel like your role was during the semifinal game? Did it change at all from previous playoff games?
EGK: I knew I just had to create scoring chances and be able to execute on them in front of the net. I had to worry about what I was doing on the field rather than focusing on the game going on before we played, because I knew if we lost, our season would be over. I had to stay composed under all the pressure we had been playing under as a team the past few weeks.
KM: What impact do you think the Final Four experience will have on the team next season?
EGK: Playing in the Final Four is definitely a goal that we see as more within our reach. Now that we've set the bar so high, we'll have to work harder next year to get further. This year was something I'll never forget.