Upperclassmen pitching was thought to be one of the strengths for the baseball team coming into the season. With seniors Dan Lynch, Aaron Sapp and Andrew Wall returning, the starting rotation seemed set.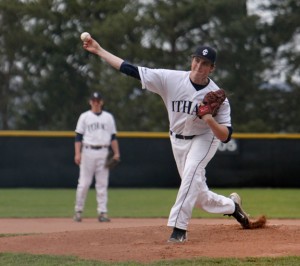 These three seniors combined to start 22 games for the Bombers last year, but only Lynch has posted solid numbers, going 2–1 with a 3.19 ERA and only four walks in 31 innings pitched.
The past few weeks sophomores Jasper Adams and Pat Lemmo have stepped up from the bullpen to fuel the Bombers' pitching staff.
Adams has been nearly perfect this season, allowing just four hits in 9 2/3 innings without surrendering a run. While Lemmo has been lights out with a 15 2/3 inning scoreless streak in his past four appearances, including a rain-shortened complete game shutout victory for the Bombers against Utica College on Monday.
Adams, who as a freshman made 13 relief appearances, uses his 6-foot-4-inch frame to get good extension in his motion, creating a sharp breaking ball and a fastball with a little extra zip.
"I had a little arm trouble early in the year, and that put me back a little," Adams said. "I've had to be more patient this year waiting for the arm to heal, and it's allowed me to focus on improving my mechanics."
Since returning from an injury to his throwing arm, Adams has picked up a win and save and has a strikeout-to-walk ratio of 3-to-1.
Adams said the conditioning program in the offseason helped him take his pitching to a higher level.
"We do a lot of sprints, abdominal workouts and finish with a few laps around the track," Adams said. "[Head Coach George Valesente] makes sure we've had a good workout by the end of the day."
Lemmo, on the other hand, has seemingly come out of nowhere. Last year, the stocky right-hander appeared in only one game, but this season he has become a key to the Bombers' success.
"We we're struggling as a staff early in the year, and it made us realize that we had a lot to work on." Lemmo said. "Coach basically revamped my motion, and since then I've been able to command all of my pitches."
Valesente said Lemmo wasn't making progress as expected in the fall but really applied what the coaches told him before the season started.
"In bullpens, instead of just getting his throwing in, he really focused on improving his mechanics," Valesente said. "We made a big adjustment to his motion, and he worked hard to get comfortable with it."
Instead of bending his back leg, Lemmo now keeps it straight as he pushes off the rubber, creating more movement and velocity on his fastball.
"He was releasing the ball about 8 inches lower than he should have and wasn't getting on top of the baseball," Valesente said. "Once we corrected that, the movement returned, and he's been able to control his pitches."
Lemmo said he knows he can now be the effective pitcher the team needs him to be.
"[Valesente] tells us to attack every hitter and be aggressive in our approach," Lemmo said. "He wants us to pound the strike zone and put pressure on the hitters to make plays instead of on us to make plays."