Opponents usually have their hands full trying to overtake sophomore Carly Jones when she is ahead, but for her teammates, following her lead is precisely where they want to be.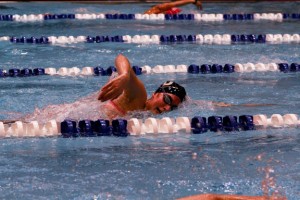 Jones, the only underclassman on the women's swimming and diving team's captains' council this season, has shown she can be a leader and lets her accomplishments speak for themselves.
Last season, Jones earned two All-American awards as a member of the Bombers' 400- and 200-yard medley relay teams at the NCAA Championship meet. Jones was also a part of the South Hill squad's 400-yard medley relay team that won the Empire 8 Conference and Upper New York State Collegiate Swimming Association championship titles.
Jones holds the Hill Center record for the 400-yard individual medley with a time of 4:33.33. Jones, an exploratory major, said one key advantage she has while swimming this event is her mind-set.
"You have to have a good mental capacity for that race because it's so long," Jones said. "Since I've swam it so many times now, I know what to expect, so it's not as daunting. Usually the less I think, the better."
Head Coach Paula Miller said there are few things that rattle Jones during a race from what she's seen.
"When we're in tight spots and in very competitive situations, she's experienced that from her past history, so she's able to handle the pressure, which says a lot," Miller said. "It teaches the younger swimmers because they see that and say, 'OK, I can do this too.'"
Freshman backstroke and individual medley swimmer Carlene Ostromecki said Jones is motivating to work with in practice.
"It's fun trying to practice next to her because I know she's a great IMer, so someday I'd like to be there with her," Ostromecki said.
Since Jones competes in the individual medley event, she swims the freestyle, breaststroke, backstroke and butterfly. Her diverse talent coupled with her happy-go-lucky personality benefits everyone on the team — especially the newcomers, Ostromecki said.
"She made the freshmen feel welcomed," Ostromecki said. "She definitely made an effort to reach out to the freshmen, talk to them and get to know them."
Jones' movements in the pool appear smooth and effortless as she strokes from one end to the other, which is a testament to the time and work she has put into the sport. Jones said she has been swimming competitively since the third or fourth grade. She said being a member of a club swim team in high school has eased her transition to college.
"I was used to the tough regimen of school, practice, homework and sleep," Jones said. "I was in that routine already so the transition hasn't been too bad."
Jones is the only sophomore on the captains' council this year. Her experience in the postseason is something Miller said helps Jones is that she understands the direction  and core values of the team because she's seen the whole spectrum.
Senior freestyle swimmer Sheila Rhoades said having Jones on the captains' council adds a different dynamic to the Blue and Gold's leadership.
"She is a younger leader on the team, and she's someone for the underclassmen to go to if they're too intimidated to come to us," Rhoades said. "She's another outlet."
Miller said one of the biggest assets Jones contributes to the team is her ability to swim in multiple events.
"She's very flexible," Miller said. "She can do freestyle, she can do IM, she can do fly, she can do breast — so that's the type of person who's great because she can fit in holes."
Jones also brings her sense of humor and spontaneous behavior to the team. Jones roams the deck with a smile on her face, trying to make her teammates laugh with backhanded comments whenever she's not racing through the water.
"I love to laugh, so I always like to at least make somebody laugh during practice and lighten the mood somewhat," Jones said. "I definitely like to make light of situations and not always be so dark and damper."
Miller said she is looking forward to coaching Jones for the next two seasons.
"It's always fun to coach, No. 1 a talented athlete, but No. 2 someone who actually loves the sport," Miller said. "She works hard, and it's fun to coach someone of that caliber."