Whenever senior cornerback Mike Conti is on the football field in a moment of intense stress, he closes his eyes and thinks of his father.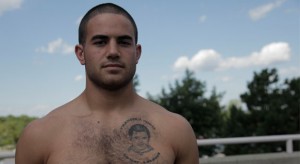 "Whenever there's a big play or I'm getting nervous and over-thinking things, I close my eyes and it calms me down," Conti said. "I feel his presence and him being there with me, almost like he's a part of me."
A three-year starter and captain for the Blue and Gold, Conti was named to the D3football.com East region all-star team last season after having seven pass breakups and scoring all of the Bombers' defensive touchdowns. His nine career interceptions place him 11th in school history.
Conti's natural athleticism comes from his father, Frank, who was a multisport athlete in high school. Frank, who passed away when Conti was 12 years old, played a crucial role in his son's life despite separating from Conti's mother, Heidi, when he was toddler.
"The one thing that really drives me, especially in the sport of football, is that my dad never got to see me play one football game," Conti said. "I only started playing football my freshman year of high school and he passed away before then, so I guess I play every game with him in the back of my mind."
Conti, a native of Branford, Conn., starred on the Daniel Hand High School football team his junior and senior seasons though he never previously played a varsity sport. Originally a linebacker, he switched to cornerback after the coaches took notice of his speed. Conti took to the position naturally and found success from the get-go. In three scrimmages prior to his junior season Conti recorded nine interceptions.
"The coaches wanted to ease me into the position but after those games they knew I was ready to go and I started every game my junior and senior year," he said.
Conti led his team to the 2007 Connecticut Class MM State Championship game and an undefeated regular season. He had an interception return and a receiving touchdown in the game, but sprained his ankle in the second half and was unable to play the rest of the game. Hand would go on to blow a 14-point lead and fall to New Canaan High School 34-30 without Conti's help.  Writers who covered the game still voted Conti the championship game's Most Valuable Player.
While Conti's life on the football field has been very successful, he will always play the game he loves with a heavy heart.
Conti's life was permanently altered in the spring of 2003 when Frank, a prominent restaurateur and small business owner, went into the hospital with a blood clot in his leg. Conti was called out of class to go see his father in the hospital before he went into surgery to get the clot removed.
"He seemed pretty normal when we went to see him," Conti said. "The surgery was the next day, so me and my mom went to get dinner. I didn't know it then, but it was the last time I would see him."
The surgery successfully removed the clot and doctors said Frank should have been able to make a full recovery in about a week. Frank did not respond to the medications he was given, however, because of cirrhosis of the liver, a condition he developed from alcohol abuse earlier in life.
"My uncle was going to the hospital every day to see my dad and I didn't want to go," Conti said. "Looking back, I think it was a good thing because the memories I have of my dad are all good, not of him hooked up to machines in the hospital."
Frank passed away a week after the surgery. Conti described the two weeks of his father's time in the hospital and his eventual death as the toughest time of his life.
"The week he passed my mom took me to a psychiatrist because she didn't know how to tell me he wasn't going to make it," Conti said. "It was like one of those moments in a movie where everything is so surreal. I was in complete denial at that point."
It wasn't until his father's funeral a week later that Conti received advice he would carry with him the rest of his life. The priest at his father's funeral confided in Conti that he too had lost a parent at a young age.
"He told me that whenever you want to be with him or feel his presence, just close your eyes and he'll be with you," he said.
Conti described his dad as a hard worker, a quality Head Coach Mike Welch said he sees in him as well.
"Mike is a blue-collar type of person in the sense that he works overtime," Welch said. "Not just on the field, but in the weight room and film room as well."
Mike's mother Heidi Shepard said Frank not only gave his son his athletic ability, but also made sure Mike took more away from sports than just the competitive mind-set.
"He got a lot from his dad in terms of sports themes and what you can get out of a competitive environment and apply it to the rest of your life," she said.
When Mike Conti steps onto a football field his actions are fluid and natural, like he was born to play cornerback.
No play sums up Conti's athletic ability and sense of awareness better than a play in last year's regular season opener against St. Lawrence University. With the game tied 3-3 late in the first half and St. Lawrence driving in Bomber territory, Conti seamlessly stepped in front of a pass from St. Lawrence then-junior quarterback Andy Spadoni and returned it 66 yards for the Bombers' first touchdown of the 2010 season.
Though he never got to see that play, or any others, Frank is still with his son every time he steps on the gridiron. Mike has a tattoo of his father on the left side of his chest to commemorate his father's memory.
Shepard said while she's not a fan of tattoos she fully understood why Mike wanted to get it.
"It meant a lot to him to have it," she said. "So I had to support his decision."
Conti, who enters his fourth year on varsity and was voted one of five captains by his teammates, said he knows how lucky he is to have the opportunities he has been presented with.
"[My father's death] really put a lot of things into perspective," he said. "I hate losing more than most people, but when you look back at the end of the day and realize how fortunate you are to go to a great school, live a great life, be healthy and play the sport of college football — there's not a ton of people that can say that."