The men's soccer team's roster has 24 underclassmen players out of 33 total players this season, which adds up to a lot of inexperience.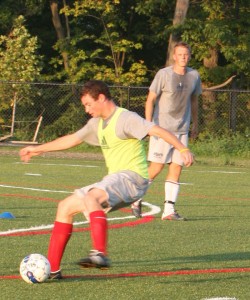 Junior center back Ryan Norland said it has been tough for the team to put together a full game of consistent play this season.
"We have a lot of freshmen that are skilled, but when we lack experience it's hard to play a full 90 minutes of great soccer," he said.
The Bombers have made many mistakes early, which forced them to play catch-up from the start. In its first two games, the Blue and Gold surrendered a goal in the first 10 minutes.
Head Coach Andy Byrne said the team's slow start put stress on the offense, which caused them to lose patience and pass the ball to players who were not open.
Through the first three games of the season, the Bombers have gone 0–3–1 and have been outscored by their opponents 10–2. Sophomore forward James Shankland is the only player to score for the Blue and Gold, tallying two goals in the season opener against Ramapo College of New Jersey. The South Hill squad has not scored a goal in 270 minutes of play.
Junior left back Jack Shirley said the team needed to put the ball in the net more to increase its energy.
"Once we score a goal, everyone is going to get that spark," Shirley said. "We're going to start playing a little harder, we're going to start playing for each other a little more."
Despite such a discouraging start to the season, the players said they realize by simply playing together more, they will mesh and eventually become a formidable squad.
Norland said more games and practices would help bring the team together.
"It really is just going to take time," Norland said. "The more we play together, we'll definitely improve. There's no doubt about that."
Shirley said he is optimistic and already feels as though the Bombers are a better team than last year, when they finished with a record of 4–8–4.
"Our attitude is a lot better than last year," he said. "This year we're more on the same page and everybody wants to win. A lot of people are putting individual accomplishments aside and we're trying to win as a team."
Byrne said the young players have a tough schedule ahead, but need to continue their development by exhibiting their fortitude and resilience.
"They need to be patient and continue to work hard," he said. "They're going to take their licks and come across teams with more experience. All I can ask is they hang in there, continue to work hard and get better."
The Bombers' next two games will be against Empire 8 conference foe St. John Fisher College, which picked up its first win of the season Sunday, and St. Lawrence University, which has yet to lose a game this season.