With seven players graduated and early injuries to upperclassmen, the scoring for the women's soccer team falls on the shoulders of a younger group of players this season.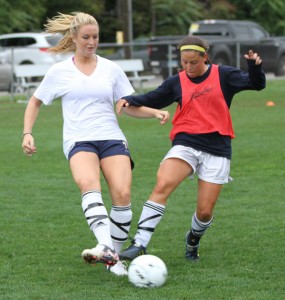 Since there are eight freshmen and only three seniors on this year's roster, the Blue and Gold are going to have to rely on their young talent for goals. Junior midfielder Julie Winn, sophomore forward Jackie Rodabaugh and junior forward Rachel Palladino will have to play at the high level they did last season for the team to win its third Empire 8 championship in four seasons.
Palladino had a breakout performance of 20 goals last season and was the only Bomber to score in double digits.
The team is already without senior midfielder Megan Trager, who suffered an ACL tear and will be out for the season. Trager leaves an offensive hole on the team, as she scored five goals last season and had an assist on three game-winning goals.
Rodabaugh said she would miss Trager's ability to take charge on the field.
"Megan plays that position that connects our offense and defense," she said. "Her leadership is very apparent while she's playing since she directs everyone into position".
Junior forward Julie Winn said injuries to the team's top performers have happened in the past, and the team has learned to adjust. At the same time, she said, Trager would have to pass on her command of the game to the younger players early in the season.
"Our team has learned to bounce back after injuries because we have encountered them multiple times in past years," she said. "But it's tough because it's hard to replace her experience and knowledge of the game."
Rodabaugh said she is seeing the field better this season and working on developing chemistry with her new teammates.
"I feel physically stronger this year, and my vision of the game has improved," she said. "My friendships with teammates have grown stronger as well, which can take us very far on the field."
Rodabaugh has proven to be a dual threat player, tallying eight assists, which was second on the team last season, along with her ability to score.
Though the offense runs through Palladino, Rodabaugh said, this year the scoring would come from sophomore forward Ellyn Grant-Keane and sophomore midfielder Amanda Callanan. Grant-Keane had a team-best nine assists last season, while Callanan scored the team's first goal this season in Saturday's 2-1 victory against The College of New Jersey to open the season.
Palladino said the young players can avoid a sophomore slump.
"We have girls who have come back this season who are stronger and smarter soccer players," she said. "The experience they had from last season will carry over to this year and they'll only learn more as the season progresses."
Article has been updated to reflect the following changes: The team graduated seven players. There are three seniors on this year's roster. The team is looking to win its third Empire 8 championship in four seasons. The score of Saturday's game against the College of New Jersey was 2-1. Amanda Callanan is a midfielder.