After 16 Empire 8 Conference games, the men's basketball team gathered at center court in Binder Gymnasium to receive a plaque none of them had ever garnered before — one that read "Empire 8 Champions."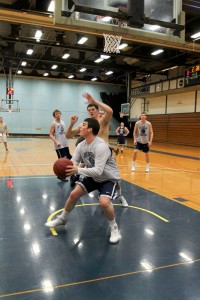 The Blue and Gold earned a bid to the national tournament with a 71-55 victory against the Nazareth College Golden Flyers on Saturday.
After the Bombers got off to a 3—8 start in nonconference play, losing six of those eight games by five points or less, junior point guard Sean Rossi said the team was still optimistic about its playoff chances.
"Once you get into that league play everyone's record is 0—0, it's all the same," Rossi said. "You'd think that losing would have a negative effect on everyone, but the coaches, leaders and captains made sure everyone stayed confident throughout the season."
Since the beginning of 2012, the Blue and Gold went 9—5 in Empire 8 play and capped off their conference run by upsetting the top two seeds, Hartwick College and Nazareth, in the conference tournament.
Rossi said when the Bombers defeated St. John Fisher College, Nazareth and Hartwick to begin conference play, the South Hill squad had the confidence it needed to propel them into the Empire 8 Conference title game.
"Once we got through those two weekends, we knew that we were one of the best teams in the league," he said. "They definitely gave us the confidence that we needed to make a serious run in the playoffs."
Hartwick Head Coach Todd McGuinness said Rossi's backcourt play made Ithaca hard to defend.
"He's a good player and a great passer," he said. "He's a handful to contain in the half-court and full court because his vision is so great."
The Bombers' offense this year involved more movement, which opened up the shooters from outside. The Blue and Gold finished first in the Empire 8, making 37 percent of their  three-point shots this season.
Alfred University Head Coach Dale Wellman said when the Saxons played the Bombers, they tried to eliminate the threat of the South Hill squad's shooting from outside the paint area.
"We're very familiar with Ithaca and how well they shoot the ball from the perimeter," he said. "And that's the main thing: We try and take away their perimeter shots because they are definitely deadly from out there."
The Bombers are currently riding a four-game win streak — their longest of the season — heading into their NCAA Tournament Regional game against CUNY-Staten Island on Friday. The Dolphins have lost one game on home court all season.
Freshman guard Connor Rogers said the Blue and Gold are not changing their preparation despite facing sudden death elimination against a top-notch team.
"It's going to be a cool experience playing in NCAA's — a different sort of atmosphere," Rogers said. "We're just going to do everything we can to win."