With the cancellation of New York State Championships this past weekend, the women's crew found itself in uncertain waters.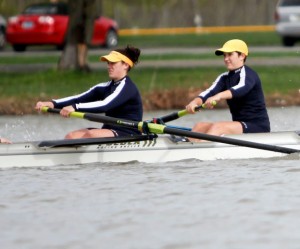 Because of flooding in Whitney Point, N.Y., which cancelled the state meet, the Bombers invited Army, Marist College, Rochester Institute of Technology and the Binghamton University club team to race Sunday at Cayuga Inlet. The three teams that were invited, aside from Binghamton, were all scheduled to race at states.
Senior Captain Jine Andreozzi said the team is disappointed about losing an opportunity to compete.
"All of our boats were very excited and ready to race," she said. "So it was a let down that the event could not be held. It's especially hard for us seniors as this was supposed to be our last state championships, and we didn't get the chance to compete."
Andreozzi said the Blue and Gold benefited from the races Sunday.
"The biggest takeaway from this weekend is that all our boats are ready to race and prepared for a lot of different racing conditions," she said.
For the Bombers, this week is all about getting geared up for the Eastern College Athletic Conference Championships on Sunday, Andreozzi said.
"Mentally, it will be important for the team to be focused this week and dedicated to getting a lot of race preparation in," she said. "Mostly, we just need to stay excited this week and motivate each other."
Head Coach Becky Robinson said the absence of states, which has not been rescheduled, will not hinder the Blue and Gold's preparation for the postseason.
"It's not going to affect the training plan because we're going to race," Robinson said. "But it affects our opportunity to race because we lost state championships."
The training for ECACs and states began in the fall. The Bombers have been preparing for a while and are into the peaking aspect of their training, Robinson said.
Andreozzi said the cancellation of states makes the next meet more important because it will have an impact on the Blue and Gold's championship chances.
"ECACs is going to play a major role in our chances of getting a bid to NCAAs so it's important for us to do the best we can," she said.
If the team is to improve on its fourth place showing at ECACs last season, the squad's leaders will have to set an example with their enthusiasm, Robinson said.
"Again we started off with that — with leadership, attitude and enthusiasm in the fall, with people wanting to do better and wanting to work harder," she said.
This season is different from others because the squad lost the chance to race at the Ithaca Duals and against Marietta College.
The Bombers have a general idea of who the competition is because the coaches look at other teams' times, Andreozzi said.
"We adjust to this by making sure to never underestimate the competition and racing the best race we can every time we go on the water," she said. "With weather conditions and other factors you never know what can happen in any given race. We have to be ready to play into our strengths and follow our race plan."
To get into NCAAs, the team's biggest competition is Williams College and Bates College, and the Bombers will be looking to avenge previous losses to both teams.
Senior Captain Amy Gefell said the Blue and Gold are ready to go a second round with those teams that defeated them earlier in the season.
"When we are getting ready to face a crew that has previously beaten us, we learn from the race and take the next race as a challenge to push ourselves and make it the best possible racing experience," Gefell said.
Preparing for ECACs is different than other races because, in addition to Williams and Bates, the Blue and Gold face teams they haven't seen before.
Andreozzi said the Bombers get information about other crews by putting up their times on row2k.com, a website that tracks times from all divisions of crew.
"We can try and compare our times to the competition," she said. "But it really comes down to just racing the other boats and not worrying about past times because you never know what can happen during the race."
Andreozzi said the South Hill squad is prepared to step it up a notch going into the championship season.
"Not being able to race states has definitely left us hungry for some tough racing," Andreozzi said. "We're ready to show everyone how far we've come since the beginning of the season."