As the Upper Terrace Field clock counted down to all zeroes, a sea of red cheered. It was the first time SUNY-Cortland had defeated the men's lacrosse team in the regular season since 2007. The six-goal margin may seem like a blowout, but the matchup gave the Bombers confidence going into their next conference game.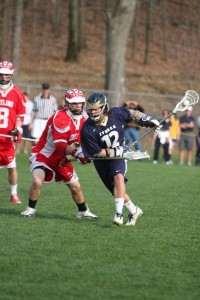 As the No. 4 team in the nation, the Red Dragons are no slouch, but the Blue and Gold held them to just one score in the final 30 minutes — something they wanted to build on.
"We showed that the games we lost earlier in the season didn't do this team justice," freshman Andrew Bruce said. "The second half of the Cortland game really proved that we can play a high level of lacrosse."
After winning just two games to start the season, Ithaca also received a much needed confidence boost in that contest.
"We were definitely much more confident going into the [Rochester Institute of Technology] game," senior Nic Heckman said. "We kind of had a feeling we were going to win that game."
That mind-set allowed them to execute for a full 60 minutes in the 10–8 victory over RIT, a team that is one of the best in the country — ranked at 17. The Bombers have been talking about their confidence all season and said it was just a matter of putting it all together to get that elusive conference victory. By matching and exceeding the Tigers in almost every step of the way in faceoffs, ground balls and saves, Ithaca finally showed it could hang with anybody.
"We just know how good we are and how good we can be," Bruce said. "The last few games have been just about pulling it all together, and we saw that against RIT."
Most importantly, the Tigers are just ahead of the Bombers in the Empire 8 standings, as both teams are in a fight for one of the four conference playoff spots.
"That's huge for us to go out and finally make a statement," Heckman said. "That's our main focus right now. It's all on the E8. We are putting all of our eggs in that basket."
Now in the final stretch of the season, it is vital for Ithaca to not suffer any missteps.
"It's really starting to become crunch time now if we want any shot at playing later in May," senior Nick Neuman said. "Everybody bringing that sense of urgency and focus really helped in the RIT game."
With their games against Cortland and RIT in mind, the Bombers finally have the momentum they have been waiting for all season. They attribute that to a slight change in focus, which goes along with their Empire 8 goal.
"Everything has definitely been a lot more intense with a lot more hard work," Heckman said. "I guess we want it more because we are kind of in a dire situation now, and if we lose, we are kind of done for the season."
That sense of urgency has not only been revealed physically but also mentally, as the athletes have been refocusing on why they love to play the game of lacrosse. By sitting and thinking about just that, they renewed their passion for winning.
"When we really had to analyze why we are actually putting in a couple hours a day into this and why we really want to play it, it really re-energized and refocused us on winning this season right now," Neuman said.
Now with no real room for error, the Bombers must bring that energy and focus against every single opponent on the schedule.
"Every game is like the playoffs from here on out, and we need to bring 100 percent effort and 100 percent focus for every game," Neuman said. "Each game has equal importance from here on out."