The men's swimming and diving team conquered illness to register its highest collective finish at the NCAA Championships in 15 years.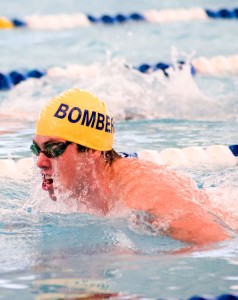 The Blue and Gold sent seven members to the four-day national title meet, which took place from last Wednesday to Saturday in Indianapolis, Ind. The Bombers finished 32nd out of the 52 teams that competed.
The tight schedule of preliminary and final rounds for each event took a toll on junior Jake Robbins and senior Jeff Rapp, both of whom were sick all four days of the meet. Rapp said he was happy he was able to compete.
"It turned from wanting to go real fast to just being able to finish," he said
Rapp had a head cold, while Robbins was dealing with flu-like symptoms.
Robbins said the South Hill squad had to overcome its inclination to get off to slow starts in meets to earn its national ranking.
"Our team is notorious for swimming so much faster at night at finals, so the biggest thing for us was getting pumped up in the morning," Robbins said.
The team was also accustomed to competing in preliminary and final rounds of each event on the different days. Preliminary and final rounds were held on the same day at the national title meet, however.
Rapp said the NCAA meet required more endurance from the swimmers.
Despite the physical and psychological pressure of the national stage, the South Hill squad's swimmers and divers achieved the program's first top-35 finish in Division III since the 1996-97 season, when the Blue and Gold finished in 24th place in the team rankings.
Junior Martin Brown competed in the 1- and 3-meter diving events, earning All-American honors at both heights. Each member of the 200-yard medley relay team — senior Antoine Connors, Robbins, junior Chris Cadwell and sophomore Zack Kundel also earned national honors for the first time.
The underclassmen who did not compete in the meet are already trying to take the next step toward earning a top ranking in Division III. Freshman Logan Metzger said he wants to begin training earlier next season.
"We're trying to get a training program going here in the spring and summer because traditionally our team hasn't done a whole lot in the offseason," he said.
Robbins said everyone who competed for the national title must share the lessons they learned from the highly competitive atmosphere with their teammates in order for the team to do well again next season.
"We need to get going as soon as we get back to school and set a really high standard for ourselves," he said.