Women's Tennis Head Coach Bill Austin won't hesitate for more than a few seconds before describing his team's fall season in one word — successful.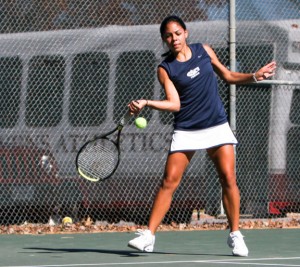 "They come to practice and work extremely hard to accomplish their goals," Austin said. "We did everything we set out to do in the fall, and we're hoping that continues in the spring."
The Bombers, coming off a sixth consecutive Empire 8 Championship title, will look to maintain their championship-caliber play against opponents this spring as they work toward nationals May 13-16. The Blue and Gold went undefeated in the fall, going 10–0 overall and 7–0 in Empire 8 conference play.
With inconvenient practice times, normally around 10 p.m., at the Reis Tennis Center at Cornell University, the players have had to find alternatives to stay sharp during the off-season. Sophomore Cristina Nunez and senior Melanie Cohen both said they did a lot of cardio endurance and weight training at the gym. Nunez said on occasion they even took out their racquets and hit balls against the gym walls.
"We were those people," Nunez said. "It probably annoyed some people, but you gotta do what you gotta do."
Nunez was awarded her second consecutive Empire 8 Player of the Year honor in the fall, going 16–1 overall and a perfect 6–0 in conference play.
Cohen said one reason for the team's achievements is great chemistry.
"Our team is very motivated," she said. "In the fall we were really motivated to become Empire 8 champions again, so that kind of pushed us every day. It felt really good to get it done."
Nunez has been working toward this goal since the end of last year.
"I practiced really hard this summer," she said. "I would hit for about an hour and a half each day and then do cardio or something to work on my fitness. I played really well at states so that was a good accomplishment."
The team returns to action Sunday as they take on Skidmore College at Tri-City Fitness in Saratoga Springs, N.Y. The Bombers will take their starting six players to nationals and compete in a team format.
Cohen said injuries and players studying abroad this semester has changed the depth of the team.
Sophomore Allison Young and freshman Becky Guzzo will not be with the team this spring. Young is studying abroad this semester, and Guzzo is playing for the  women's lacrosse team. Cohen said she realizes the obstacles, but is confident in the team's abilities to adjust to missing players.
"It's going to be even more difficult this spring with a short roster," Cohen said. "We're certainly up for the challenge."
With the fall season behind them, the Bombers are looking forward to a competitive schedule in the spring. The difficult schedule is done purposely by Austin, so his players can get accustomed to playing against higher levels of talent.
Cohen said the stiffer competition in the spring helps prepare the players for the NCAAs.
"In the fall, you just have the pressure that you want to win the Empire 8," Cohen said. "But the spring is definitely the tougher matches. We are playing national-caliber teams."