After a miserable start to the season, the baseball team now finds itself in the middle of a playoff race. Winners of five of their last six, the Bombers head into the biggest weekend series of their season.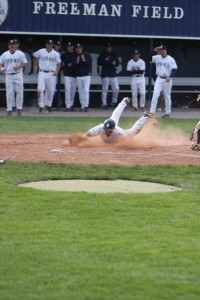 Back-to-back doubleheaders with St. John Fisher College should go a long way in determining who wins the Empire 8. Both the Cardinals and Bombers sit atop the conference with records of 6–2.
At just 11–12, Ithaca has yet to surpass .500 this season as the team fell to No. 21 University of Rochester 5–2 in 11 innings on Tuesday. The Bombers will travel to Pittsford, N.Y., on Saturday to face off against a 20–9 Fisher team that has won 12 of its last 13 games. But this does not scare senior captain Tom Fishback or the Bombers, who were originally selected to win their 10th straight Empire 8 crown in the preseason coaches' poll.
"They should be worried about us," Fishback said. "If we come out and play with the intensity we have had in the last six games, that intensity is really going to separate us."
After averaging just more than five runs per game in its first 17 games, the Bombers' offense has truly started to get in sync. Over its last six games, Ithaca is 5–1 and has averaged nearly 10 runs a game.
Head Coach George Valesente said the team's offensive improvements have been all about putting in the extra time with Hitting Coach Frank Fazio.
"Our hitters have been getting extra work with Coach Fazio, and the results have showed," Valesente said. "It hasn't just been more work, but it's been conscientious work to improve things that were going wrong."
But if the Bombers are to keep the bats rolling this weekend in Pittsford, it will have to be against a Cardinal pitching staff that has allowed less than four runs per game in its last nine contests. Fisher's pitching this season has an astounding team ERA of just 3.88, the best in the Empire 8. Cardinal Head Coach Brandon Potter said his pitching staff has done a great job keeping games close.
"Our pitching staff is mentally tough," Potter said. "We are an experienced team who has been there before. They just keep working at it until they get the result they want."
For the Cardinals, close games have been the story of their season. Seventeen of their 29 games have been decided by two runs or less, and of their nine losses, seven were by just one run. Potter said his team still has a lot to work on, and they are not quite at the point he wants them to be come season's end.
But much like the Bombers, the Cardinals have hit their stride at the perfect time of the season, just before the biggest weekend to date for both teams.
"This is a very important series," Valesente said. "It looms large. I would imagine whoever does well will have a leg up on a playoff bid."
For Fishback and his three fellow senior teammates, a successful weekend on the road at Fisher could erase the doubt placed on this team after its poor first half of the season.
"One thing that this team does really well is that we take things personally," Fishback said. "Right now we have the right mentality to go in there and take four."